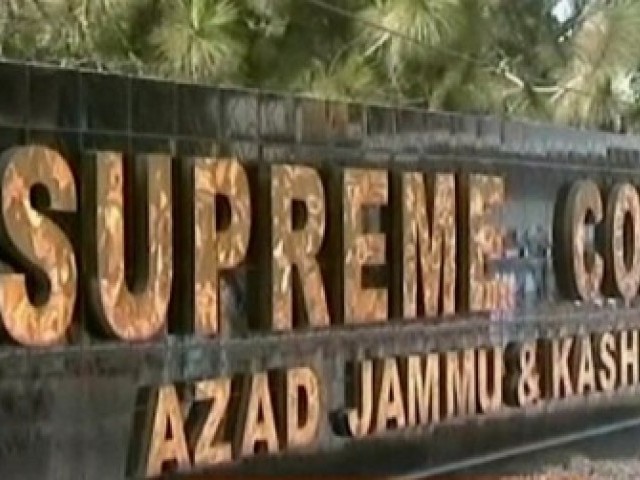 ---
MUZAFFARABAD: The Azad Jammu and Kashmir High Court (AJKHC) has ordered the suspension of all federal government-funded development schemes in the region on a complaint filed by the Pakistan Tehreek-e-Insaf (PTI).

The petitioner had alleged the federal ministry for Kashmir affairs kick-started several uplift schemes in an effort to influence the upcoming general elections in AJK.

In a short order passed on Friday during the preliminary hearing, Justice Azhar Saleem Babar issued a stay against all the development projects funded by the Kashmir Council in the region.

PTI's Shaikh Maqsood went to the court against the provision of funds to Pakistan Muslim League-Nawaz (PML-N) lawmakers in the AJK Assembly, alleging the ruling party in the centre wanted to influence the general elections in the region scheduled in June.

The plaintiff claimed the funds were being used to "steal the public mandate".

The Federal Ministry for Kashmir Affairs and Gilgit-Baltistan recently released millions of rupees in grants to PML-N leaders to complete development schemes within their constituencies.

"The matter is of urgent nature so requirement of Rule 34 is hereby dispensed with and it is directed that status quo shall be maintained till the next date," reads the short order issued by the high court.

Keeping in view the importance of the case, the court also proposed the petition should be heard by another bench. The judge directed the case file be presented before AJKHC Chief Justice Ghulam Mustafa Mughal on 13 April.

Computerised land records

The AJK government has also launched a digitalised database of land records. Initially, the AJK Information Technology Board (ITB) has started issuing computerised papers in Hattian Bala, Dhirkot and Dadyal tehsils.

While speaking at the launching ceremony of the system, Information Technology and Higher Education Minister Matlooq Inqilabi said the government wanted to bring the region at par with the other developed areas of the country.

"Through this system, a person can check the land record anywhere in the world," he said. "This automation will particularly be helpful for overseas Kashmiris."

He said land records could now be issued within 30 minutes while the transfer of ownership would take no more than 40 to 50 minutes. The ownership will now be claimed through biometric data records.

"The biggest achievement of this computerised land record system will be to stop the culture of bribery and corruption from the region," Inqilabi said.

Within its limited resources, the minister said, the IT board has established computer labs in 192 schools, while the Supreme Court and Public Service Commission have also been fully automated.

ITB Director-General Sarwar Gondal said the computerised system would end the exploitation and malpractices typically associated with land revenue officers (patwaris) in the region.

Published in The Express Tribune, April 9th, 2016.