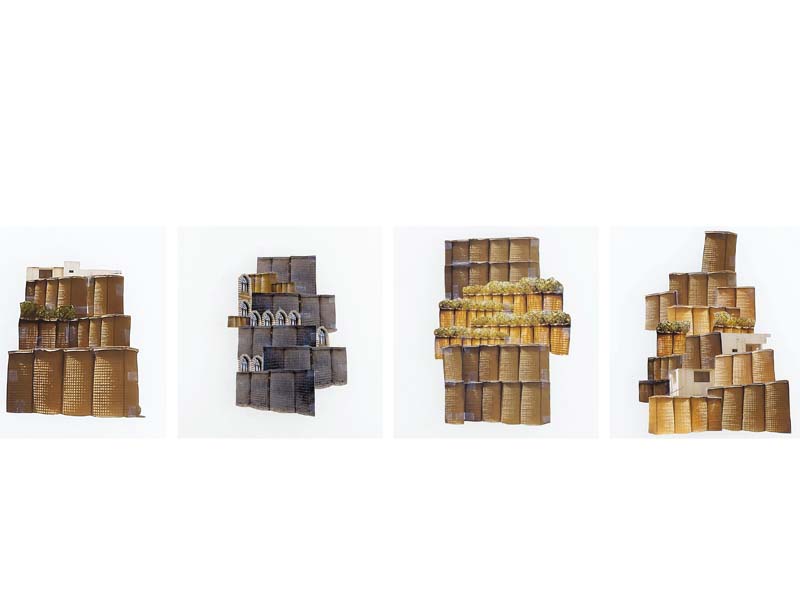 ---
KARACHI: Ever imagined what would Karachi's architectural future be like with tall structures and skyscrapers in the next few years?

Artist Seema Nusrat envisions a probable future for Karachi in her latest exhibition, titled 'New Urban Landscapes,' at Koel Gallery. She also showcases the impact on the city of the rampant use of sandbags and Hesco bastion's (protection barriers comprising heavy-duty fabrics) outside official and domestic buildings.

Hesco bastions remain the focal point of her work depicted through pencil on paper and in the form of a collage from different photographs. A common sight in the city, Nusrat has shown how these barriers have now become a form of structure on their own.

Guarding the otherwise attractive elevation of houses and balconies, these barriers tend to waver between their nature of being a barricade and a form of landscape.

"Once a symbol of security and fear, these have become part of the architecture of the city," said curator of the show, Zarmeene Shah, while speaking to The Express Tribune.

In her statement, Shah explains how a bori (sack) comes to enact a dual purpose. "On the one hand, offensive [referring to the times when bodies could be found inside sacks], on the other defensive, however both entrenched within a language of fear and violence, the physical manifestations of which have come to create a mark on the face of the city," she writes.

According to Shah, in Nusrat's reimagined landscape since these structures have been integrated into the city's architecture, they have lost their hold on the citizens through an act of acceptance and neutralisation. "Like it or not, they are there," she said.

Nusrat's creation also extends to drawing of an aerial view of the city's spread- a mix of Hesco bastions and tall structures that are a characteristic of any metropolis. The noticeable feature of the drawing is the similar mesh-like appearance of the standing structures, making it appear as if the bastions and structures are different form of the same things or changing their roles simultaneously.

"Yes, it's almost like they grow into a city. They are part of a soft landscape," added Nusrat.

The exhibition will continue till April 18.

Published in The Express Tribune, April 9th,  2016.