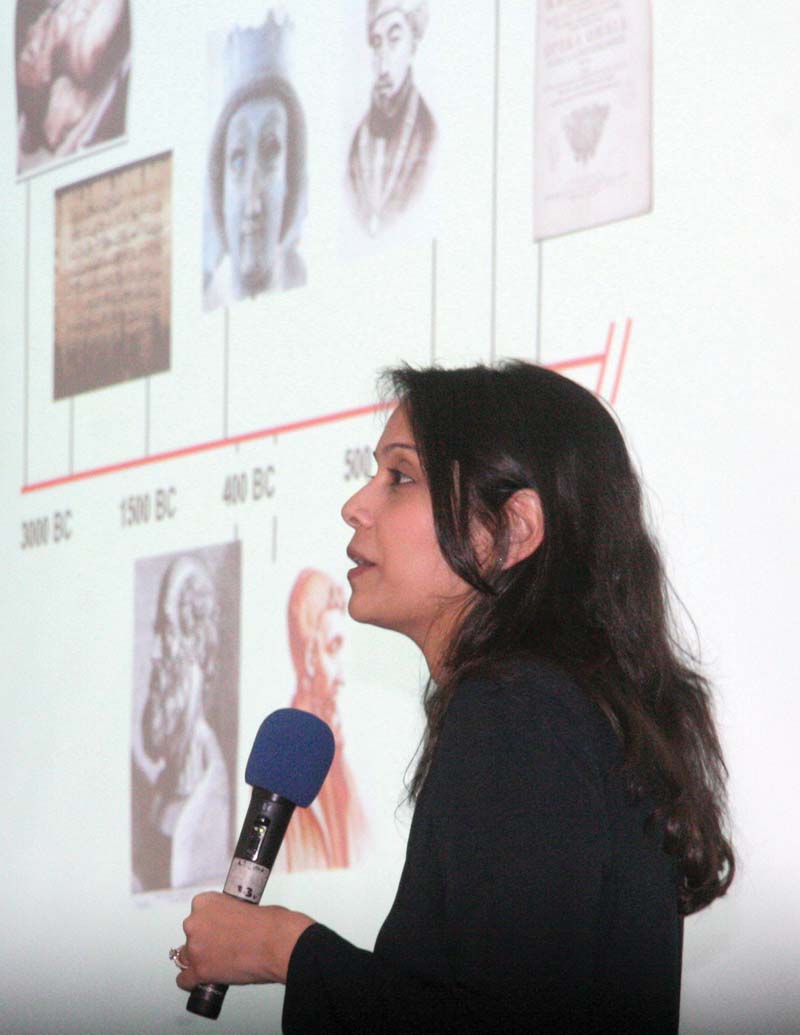 ---
KARACHI: Cancer is one of the major causes of death around the world but it can be prevented by adopting a balanced and healthy lifestyle, according to Dr Kulsoom Ghias.

"Cancer is our fate. Thus, there is no avoiding it," she said. Dr Ghias is a faculty member at the department of biological and biomedical sciences at Aga Khan University. She was speaking at a seminar titled 'The War Against Cancer: Can We Win?' on Thursday at Habib University.

Annually, around 14 million people are diagnosed with the disease across the world and eight million people die from various types of cancer, she said.

Discussing the history of the disease, she said the disease has always been there - human beings and animals have suffered from it for a long time. US president Richard Nixon declared a war on cancer when a lot of people were dying from the disease in the US in the mid-20th century. The war on cancer was an effort to find a cure by increasing research and improving human understanding of biological factors leading to cancer. The US president also signed the National Cancer Act in 1971.

What is cancer?

Cancer begins when cells in a particular part of the body start to grow out of control. There are many kinds of cancer, for instance prostate cancer, breast cancer, colorectal cancer and stomach cancer, but they all start because of out-of-control growth of abnormal cells.

Dr Ghias said that one out of three people will develop cancer and one out of five people will die from it. The most common cancer among men is prostate cancer and most women suffer from breast cancer. She said around 1.6 million people suffer from lung cancer around the world, 1.4 million women suffer from breast cancer, while 1.2 million people suffer from colorectal cancer. Dr Ghias explained that while cancer is mainly an old-age disease, many young people also suffer from it.

Have we won the war?

According to Dr Ghias, we have won the battle against cancer, as the number of cases has reduced and the mortality rate has also gone down since testing facilities were introduced. The quality of life has also improved but now the burden is on the developing world, she added. "A large number of cases are reported in developing countries, particularly in rural areas. There are no proper diagnostic and healthcare facilities in rural areas," she said, adding that if cancer is detected early, there are more chances of recovery. "We have come a long way," she said, adding that there is always hope.

Prevention and education

She stressed the need for creating public awareness about the disease. "We need to launch awareness campaigns in schools, colleges and universities. We need to tell students smoking cigarettes, chewing tobacco, paan, betel nuts and gukta can also lead to cancer," she urged.

Dr Ghias highlighted the importance of collecting data to help fight cancer. Information is power, she said, adding that we need to set up cancer registering centres so that we know which type of cancer is most common. "We need to know which cancer is killing us more," she explained. Dr Ghias said funds should be allocated for cancer research as research required money. She concluded by saying that a healthy and balanced lifestyle 'will save us from a lot of trouble'.

Published in The Express Tribune, April 9th,  2016.
COMMENTS
Comments are moderated and generally will be posted if they are on-topic and not abusive.
For more information, please see our Comments FAQ