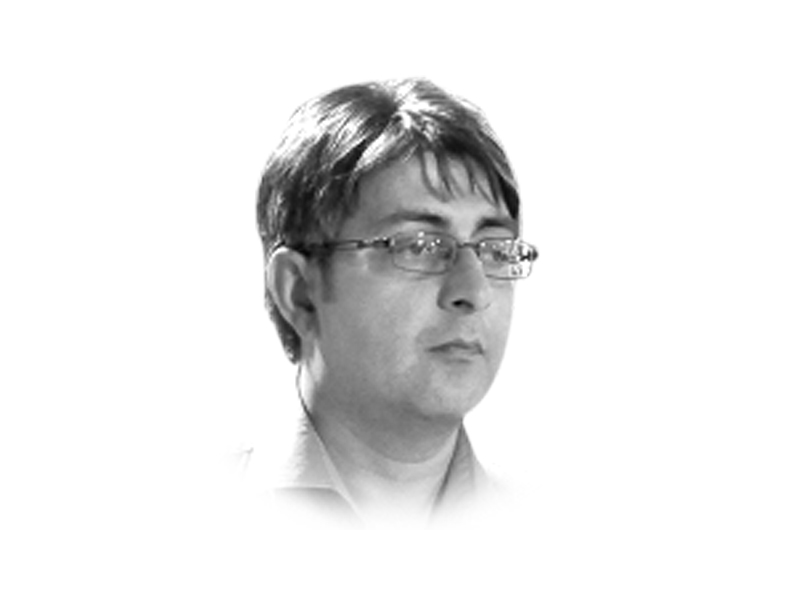 ---
Governments come and go. Something remains. The craving to survive. You take something from the previous government, recycle and put it to good use. And so the civilisation keeps limping forward. The trouble is, it does despite our best efforts not to let it. The obsession with the minutiae of the day to day affairs. Tiny victories meant to massage huge egos. Big defeats obscured so that no one can tell their true impact. And amid all this kerfuffle, the bigger picture lost, sense of perspective lost, sense itself lost. The true casualty: imagination.

Pakistan came into existence in a state of trauma. The talk of the day after tomorrow seemed meaningless. So you can't fault your state apparatus for not seeing the bigger picture. When you have been running on autopilot for so long, it is pretty hard to look up in the sky and know there is no glass ceiling. All you need to do is to use your imagination, keep moving, have a heart and some patience.

How often do you hear that an average Pakistani is illiterate and therefore does not deserve democracy? I do more than you would think. Democracy, nay, craving for democracy, has performed remarkable feats for us already. I say craving for democracy because something brings us back to the representative form of government and out of the long and dark nights of dictatorship. That craving has given us a sense of ownership. Pakistanis don't come out and burn everything down. Some do but not all. That is precisely why we have been spared of the aftershocks of an Arab spring in our non-Arab corner. Depth, you see.

An Arab spring like revolution didn't come to Pakistan but not for the want of trying. The lawyers' movement, at a stage, seemed unstoppable. Then Benazir Bhutto was assassinated and Sindh seemed up in smoke. Then Qadri came. Then Sikander came. Then Qadri again, along with the not-so-mighty Khan. And finally, followers of another Qadri. But life went on. Someone somewhere wanted us also to be just as rudderless as the rest of the Muslim world. But perseverance is our ally. We have managed to survive so far.

In a post-colonial hodgepodge that is Pakistan there is no dearth of excuses to launch agitation. Alleged rigging. Corruption. Hanging of a self-confessed murderer. Cooperation with the US. Lack of cooperation with the US. A rough neighbourhood. An economy that fails to deliver for the poor. But thankfully people are wiser than this. They know there is no such thing as controlled chaos. Once it starts, it will never end. And this fire will burn everything down and leave us at the mercy of those who always hate us. So thanks but no thanks. They speak on the election day.

It doesn't mean we have to abandon our principles or dreams. Keep pushing for change. Just don't disrupt the system. The democratic system, no matter how flawed, when allowed to function without disruption, guarantees evolution. This is what I was advocating in this very space when the apex court was about to punish Yousaf Raza Gilani and this is what I am doing today. You gave this country one chance to vote out the incumbents and it didn't disappoint you. Just because the PPP survived in Sindh now we are told democracy doesn't work. One full democratic term and you are already passing judgment. Repeated failed spells of dictators and dictatorship still works? If you think people are not that educated, then do what Ataturk did. Take a blackboard, put it in your jeep and go village to village, imparting knowledge. Just don't sit there and rebuke the common man.

Let's go back to changing perspectives. Stephen Covey once recalled a day when he was travelling in a bus and a man sitting next to him kept burying himself in the paper as his rowdy children created all the ruckus. When Covey finally accosted him, the man apologised for his children's behaviour and said he didn't know how to control them given that they were returning from hospital where their mother had just died. Now look again. Look at Libya, Iraq, Syria and Afghanistan. Can we afford instability? Things might not be rosy but they are not too bad. Free media, free judiciary, institutions, new economic hope owing to projects like CPEC, can all be further bolstered if we stay the course and don't lose sight of the bigger picture.

Published in The Express Tribune, April 9th,  2016.

Like Opinion & Editorial on Facebook, follow @ETOpEd on Twitter to receive all updates on all our daily pieces.