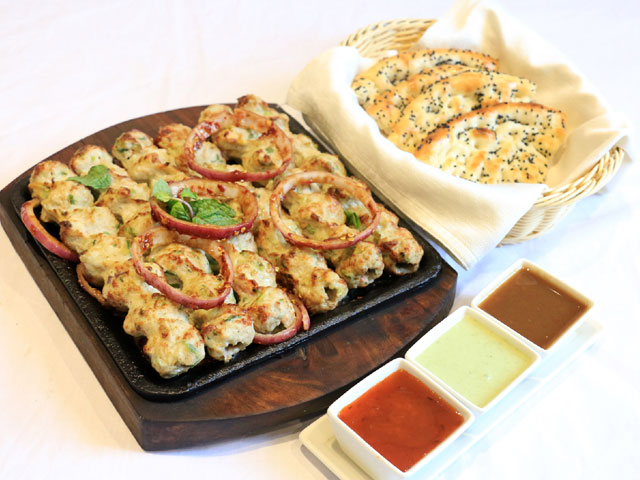 ---
LAHORE: From Food Street to MM Alam road, there's no dearth of restaurants offering desi cuisine in Lahore. These come in the form of fine dining; traditionally decorated, high-end eateries like Spice Bazaar or tikka houses providing roadside food. And then there are some providing a quick fix for families looking to enjoy a pleasant evening or workaholics who want to grab a quick lunch.

Chili Chutney is the latest addition to the latter but its exceptional food quality is definitely worth checking out. The restaurant offers extremely flavorful dishes with economical prices.

6 Karachi desserts you must try now

Located near Doctor's Hospital in Johar Town, (which seems to be the new hub of quality food restaurants) Chili Chutney is a small and relatively new eatery. Decorated with yellow fairy lights, the two-storied building is easily spotted off the main road. Its indoor seating area is simple yet chic with beige leather sofas lined against the wall and wooden furniture in the center.




However, it's the restaurant's spectacular roof top space that brings out a quaint ambiance. The area is surrounded by green plants, dim lights, garden-style chairs, tables that have canopies and mist fans. Even with summer fast approaching, your outdoor dining experience will be a pleasant one.

We started off with their simple salad which was freshly made from raw onions, cucumbers and tomatoes, mixed with lemon juice. Food was served within 15 minutes of ordering and it came with three different chutneys – mint, apricot and tamarind. Each had its unique flavor, kicking in a tangy plus sweet and sour taste.

Up next, the restaurant's specialty, Khas chili kebabs were a feast to the mouth as well as the eyes. Sizzling on the wooden platter, garnished with grilled onion rings, they came oozing with cheese, mixed with finely chopped capsicum, onions and other veggies.

Foodpanda launches "Best Of Karachi" revealing the most mouth-watering desi-cuisine in town!




"Our Khas kebabs are called 'khas' for a reason. The meat is marinated in spices for about a day to bring out its true flavors," Hammad Cheema, owner of Chili Chutney told The Express Tribune. "People who try our house signature, always come back for more."

Anther kebab platter worth ordering is the Reshmi kebab. Juicy and well-marinated, they came with a burst of flavors, tantalising the taste buds with each bite. Leaning on the spicy side, the meat was tender and cooked to perfection. The amalgamation of garlic and ginger with tamarind and mint chutney is simply divine.




Chili Chutney's naan basket comes fresh from the tandoor and they serve all kinds -- Garlic, Kalwonji, Roghni and Shakar (sugar) naan served as dessert. A jute basket carries these piping hot naans that are both soft to chew and crispy from the outside. Enough to satiate all kinds of bread lovers, a combination of each should be ordered.

"This is a budget restaurant and my aim is to attract a loyal customer base through food quality," said Hammad.




Their unique selling point is definitely the taste of each creation. From appetizer to dessert, everything is cooked from scratch. Rounding off the heavy dosage of spicy Pakistani food the right way, we had Firni and Kulfi falooda. Served adequately cold, the sweets were soft and fluffy. Both were delectable, ending the night with a refreshing feeling. The BBQ dishes were more addictive than the curry ones.

This is Hammad's first experience in the food industry but a remarkably good one. According to him, the daily footfall is about 100-150 people and he keeps offering lunch, breakfast and dinner deals to mix it up. His future plans include expanding Chili Chutney branches to Defence and Gulberg but wants to establish his brand in Johar Town first.

Global village: Take a bite of Turkish cuisine at grand festival

The staff also deserves a special mention, as they were highly trained and accommodating. Overall, the hygiene standards are visibly excellent and the restaurant is certainly a foodie's delight. It is easy on the pocket as well with each dish ranging between Rs 250 to Rs 650. For example a Chicken or Mutton karahi dish will cost you Rs 450.




We do, however, recommend that a special drink be served on the house in the coming months. With Lahore's intense heat, having a refreshing drink like mint lemonade soaked in crushed ice right before (or after maybe?) a desi overdose is much needed.