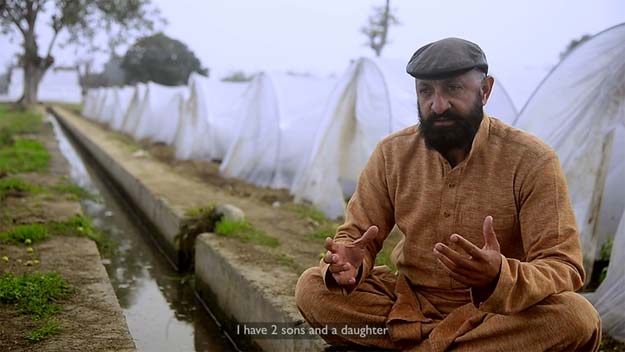 ---
Growing up in an agricultural family in Daska, Gujranwala, Qazi Naeem had seen his father take care and provide for the entire family. He followed in his father's footsteps and started taking care of their family land right from his youth. His father being a visionary had always encouraged him to learn and adopt modern farming practices.

A visual glimpse into the life of an extraordinary Pakistani

In 2014, Naeem was selected by USAID's World Learning Programme for training on Controlled Greenhouse Farming for off-season vegetables to be conducted in Holland. The techniques he learned included the use of simple high tunnels or plastic covered tunnels. This practice sees vegetables grown under plastic tunnels, which increases cropping intensity, and provides high quality vegetables, whilst decreasing environmental hazards leading to increased income for producers.

Upon his return to Pakistan, Naeem started applying his learning to his own farm in Gujranwala. His enthusiasm and practical application back at home won him another opportunity to get trained, this time in Farm Water Management, for which he went to America in 2015.

For Naeem, employing these techniques has enhanced profitability manyfold. "Growing the same crop the year round, you are bound to hit peak rates two or three times," he shared.

Gilgit's very own Wright brothers

Naeem is now able to get a good price by marketing vegetables several weeks before other farmers practicising traditional farming. Through his adoption of modernised farming techniques, he has become something of a local celebrity now.

Under his guidance, these techniques are being applied by different farmers to almost 3000 hectares now. "I am delighted to help other farmers in the techniques that I've learnt," Naeem said.

Adding vegetable crops to a farmer's rotation helps increase farmers' income per unit area of land as well as variety and food security.

For Naeem, the biggest joy lies in the fact that his eldest son is studying agricultural science by choice, and is all set to take on his father's business forward the way he did many years ago.

"Today, when I speak to my son alongside other aspiring young farmers, I hear my father's guiding voice in my ears as he spoke to me years and years ago," Naeem said.
COMMENTS (1)
Comments are moderated and generally will be posted if they are on-topic and not abusive.
For more information, please see our Comments FAQ