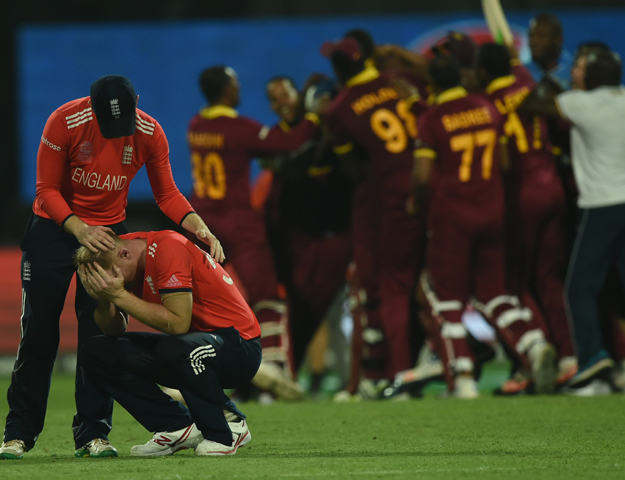 ---
LONDON: England all-rounder Ben Stokes says he was left devastated by his last over horror show in the World T20 final against West Indies and has yet to watch a re-run of Carlos Brathwaite hitting him for four straight sixes.

The 24-year-old, who had earned plaudits for his efforts in the last over of England's semi-final win over New Zealand, was tasked with bowling the final over on Sunday in Kolkata with the West Indies needing an unlikely 19 from it to win.

But Brathwaite slugged Stokes' first four deliveries for giant sixes to give the West Indies their second World T20 title and leave the Englishman on his haunches looking close to tears.

Comebacks to match Brathwaite's blitz

"I thought, 'I've just lost the World Cup'. I couldn't believe it," Stokes was quoted as saying by British newspaper The Daily Telegraph on Friday.

"I didn't know what to do. It took me so long to get back on my feet. I didn't want to get back up. It was like the whole world had come down on me. There weren't any good things going through my mind. It was just complete devastation."

Stokes, who had given up just three runs in the final over against New Zealand, said he was still confident of closing out victory against the West Indies even after Brathwaite had clubbed his first two deliveries over the rope.

Stokes can recover to be among England's best ever, says Stuart Broad

"After the first six I thought, 'Oh God', but I was backing myself. I had been in that type of situation for four weeks in all my training so it was not a case of holding anything back and thinking I hope I get this one in, because I knew I could do it," Stokes said.

"I haven't watched it back yet because I don't want to bring myself to do that at this stage so I don't know how much I missed it by but as a bowler you have a feeling as soon as you let go whether or not you have got a yorker right and it felt like I had."

Stokes was subject to ridicule in his native New Zealand, and two radio presenters were suspended after they broadcast a conversation with his mother on air as she tried to defend her son against the criticism.

Kiwi radio presenters suspended over Stokes prank

Stokes said despite the experience in the final he would not be shirking the responsibility of bowling at the death again.

"Some days they go well. Some days they don't," he added.

"That was a bad day but I won't be shying away from it. You almost want it to happen because if you nail it everyone forgets (the final)."