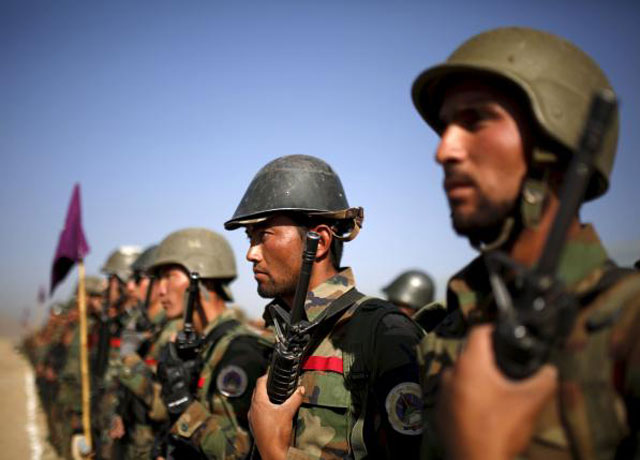 ---
SORAB, AFGHANISTAN: Lieutenant Colonel Jonathan Chung, leading a team of US advisers in Helmand province to help train the Afghan army's embattled 215th Corps, knows he does not have much time.

If Washington sticks to its schedule for withdrawing troops, by the time his tour ends in November, the NATO training mission in Afghanistan will be nearing its end, despite local forces struggling to fight the Taliban insurgency alone.

Senior Taliban dissident believed dead

"There is still much work to do," said Chung, a veteran of several Afghan tours, speaking at Sorab base, a dusty expanse of blast walls and wire fences in Helmand.

"You have to adjust your expectations," he told Reuters during a recent visit to the base in the southern province, where Taliban militants, bent on overthrowing the government and driving out foreign forces, made major gains in recent months.

Corruption and issues like irregular leave due to heavy fighting and pay have undermined efficiency and hurt morale among local troops.

He has seen progress since arriving in February but remains realistic: "We understand we're not going to be able to fix all that."

As things stand, US forces in Afghanistan are due to be nearly halved to 5,500 from the current level of 9,800 by the start of 2017. At that level, US officials say the training mission would not be able to continue.

But the timetable is coming under scrutiny, as the new US commander of NATO forces in Afghanistan conducts a review of security before making recommendations to Washington some time in June.

General John Nicholson recently told Reuters that heavy fighting and casualties in 2015 had meant the training mission was behind schedule.

Afghan Taliban's top dissident 'detained' in Pakistan

NATO commanders say big strides have been made by fledgling Afghan security forces, built virtually from scratch since the Taliban was toppled from power in 2001.

But the sharp escalation in casualties and territorial losses in 2015, the first year Afghan forces fought without combat support from NATO, has underlined the risks involved in having only 5,500 US soldiers in the country.

Afghan officials say forces lack vital resources including close air support, which the small local air force cannot yet provide at anything like the levels NATO could, as well as expertise in areas like maintenance and logistics.

"Those capabilities are still under development and there is a lot more work needed," Acting Defence Minister Masoom Stanekzai said on a recent visit to the Afghan 215th Corps headquarters at Sorab. "We need international assistance."

From defence to offence

One of the biggest challenges Chung said he faced was trying to change the mindset of Afghan soldiers, as NATO pushes them to be more offensive in operations against the Taliban.

"They'd go out to a certain area, and the first thing they'd do is ... build a checkpoint. From that point on, they'd become very stationary," he said, describing how local forces tended to operate.

Chung and his team are among around 500 US troops dispatched to bolster 215th Corps, a reflection of international alarm at how Helmand security had deteriorated early in 2016.

The training, mainly by Afghan officers backed up by US mentors, covers everything from battle tactics to driving, vehicle maintenance, equipment care and bomb disposal.

"At some point, there's going to be an end-date on this," Chung said. "We're here to help them build something that they can sustain and manage."

But U.S. officials acknowledge that the task has been complicated by problems including corruption among some officers that undermined confidence and morale.

"If you don't know someone higher up in the army, all your benefits go to soldiers who know army officials," said Darweza Khan, a 215th Corps soldier serving in Gereshk district.

A spokesman for the "Resolute Support" training mission said earlier this year that several senior officers in the 215th Corps had been replaced for graft that led to soldiers not being adequately looked after and supplies and equipment being stolen.

"More time would be great" 

Nicholson has declined to comment on troop levels as he prepares his review, but US military spokesman Brigadier General Charles Cleveland said asking for more flexibility, including in use of air power, was among options he was considering.

That would be welcome by the government, which has struggled to contain the insurgency since NATO formally ended combat operations at the end of 2014, leaving only a fraction of an international force that peaked at more than 130,000.

Whether there is appetite for more delays in reducing US forces remains to be seen, particularly in election year.

Internal rifts: Senior Afghan Taliban commander killed

If the current plan remains, US focus will switch to counterterrorism operations against Islamic State, al Qaeda and other groups, with little capacity for training and advising.

Foreign officers involved in the program remain realistic, given that time is running short.

"This is not an overnight fix," said British Major General Paul Nanson, commandant of the Royal Military Academy, Sandhurst, which has worked closely with the Afghan army's officer training school near Kabul on building a new generation of army leaders.

"This is a generational change. We've now committed to seeing it through 2016 which is good news. If we haven't got more time, we've got to do the best we can with the time available."