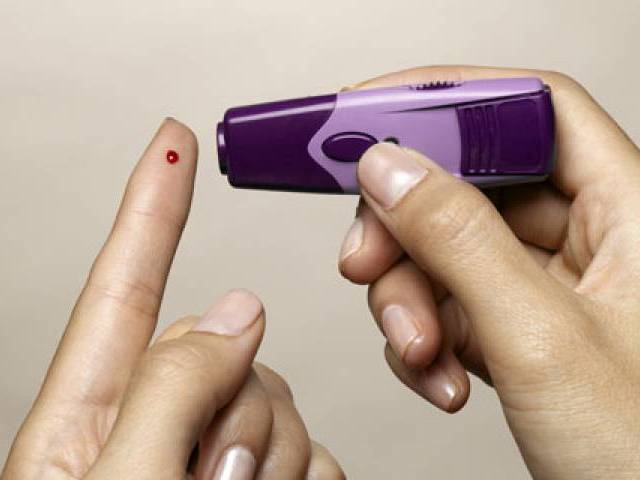 ---
KARACHI: Massive urbanisation, change in food pattern and sedentary lifestyle are the factors that have contributed to an increase in diabetic patients across the globe.

These views were shared by a foreign delegate, Atefej Baksahraei, at the 25th International Children's Health Conference organised by Hamdard Public School and Hamdard Foundation Pakistan to mark World Health Day, 2016, at the Beach Luxury hotel on Wednesday. The event was organised in accordance with the theme defined by the World Health Organization (WHO) for this year: 'Beat Diabetes - Scale up Prevention, Strengthen Care, and Enhance Surveillance'. More than a dozen young speakers from different schools across Pakistan and other countries such as Germany, Iran, Japan and Turkey participated in the event.




WHO's representative in Sindh, Dr Sarah Salman, said that WHO selects a priority area of global public concern as the theme of World Health Day, falling on April 7, which is also the birthday of the WHO. She said the theme for 2016 is to beat diabetes, a disease characterised by elevated blood sugar levels.

"Diabetes deserves full and quick response since it's a serious and progressive disease," said Iraj Fatima, a student of Peshawar Model Girls High School in the concluding remarks of her speech. "May the World Health Organization achieve all of its aims."

According to a young Turkish student, Mehmat Sadik Haspolat, diabetes is a chronic disease and it is high time to create awareness about it among the public.

Another speaker, Syeda Hafsah Najeeb, quoted diabetes expert Prof Dr Zaman Shaikh in her speech, saying that by the year, 2030, Pakistan will have the fourth largest diabetic population in the world with 13.8 million diabetic patients.

According to Dr Salman, 422 million adults are affected by diabetes across the globe today, which is four times more than the figure in 1980. She said that in 2012 alone, the disease caused 1.5 million deaths.

The most prevalent diabetes is type-II diabetes, largely caused by unhealthy eating and lack of physical activity, she said. She added that healthy eating and lifestyle habits are a strong defence against the disease. "On World Health Day, WHO is calling for a two-pronged approach: interventions to prevent diabetes and manage diabetes [in those] who have already developed the condition."

Dr Salman believes that diabetes is one of the four main non-communicable diseases and is a pandemic that remains hidden throughout most of the world, because of which, half of the people will remain undiagnosed. According to WHO, diabetes will be the seventh leading cause of deaths by 2030, she said.

Endocrinologist Dr Fatema Jawad stressed the need for everyone to contribute in the fight against the disease. "Let us join hands in the crusade against diabetes since it's our joint responsibility," she said, advising the large number of audience present at the conference to 'eat less and walk more'. According to her, the best preventions of diabetes are healthy food, exercise, regular check-ups, maintaining optimal weight and avoiding stress.

Hamdard Foundation president Sadia Rashid said that prevention is better than cure and that high blood sugar can compromise every major organ system in the body, causing heart attacks, strokes, nerve damage, kidney failure, blindness and infections, which may even lead to amputations.

Published in The Express Tribune, April 8th,  2016.