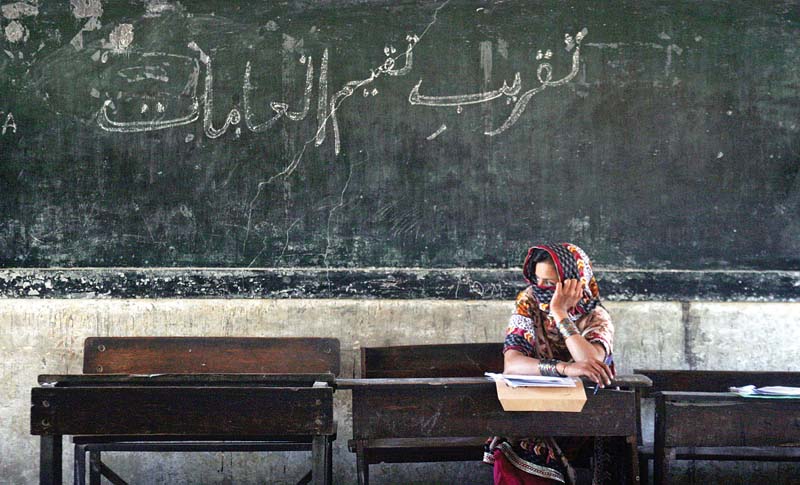 ---
KARACHI:



What the lacklustre election campaign had hinted came to be true on Thursday - the turnout for the by-elections on NA-245 and PS-115 seats was remarkably low.




After the withdrawal of the Pakistan Tehreek-e-Insaf (PTI) candidate for the National Assembly seat on the eve of the polls, the Muttahida Qaumi Movement (MQM) was deemed a clear winner. Save a few clashes among MQM and Mohajir Qaumi Movement - Haqiqi (MQM-H) supporters, the little voting that took place was carried out peacefully.

The by-elections were being held to re-elect representatives for the two constituencies. These posts were left vacant after the resignations of MQM's Rehan Hashmi and Arshad Vohra, who have chosen to vie for positions in the local government.

A heavy contingent of law enforcers was deployed in both the constituencies, with nearly 4,000 policemen and 1,000 Rangers men reporting for duty.

"No excitement! We are getting bored," complained Bilquis Begum, an MQM volunteer, who was sitting idly at the party's camp near UC-10 polling station at Kalyana Academy School in North Karachi Sector 10.

Polling started at 8am but a majority of the polling stations had votes cast in double digits or none at all until mid-afternoon. The few people who came in showed little enthusiasm. "I am not a diehard worker of the MQM," said Akbar Ali in North Nazimabad. "I always cast my vote, not to make sure the MQM wins, but to ensure other parties are defeated," he shared. "This time, no one is casting the vote believing that the party has already won."

At polling station No. 106 at Abdullah College in North Nazimabad, not a single vote was cast until 1:30pm. At around 2pm, Saima and his sister-in-law came from D'Silva Town to cast their votes. The situation at the male polling booths was similar. Only 18 of the 1,240 registered voters showed up until 2pm, said the presiding officer of booth No. 108 at Abdullah College. "It would be an achievement if even a hundred votes are cast by 5pm," he said.

In North Karachi, the turnout was considerably better. At polling station 218 in Standard High School, 90 men and 40 women had cast their votes by 2:30pm, said presiding officer Inamullah. He expected more people to show up closer to the end of polling time.

 Tension in Lines Area

Lines Area, which falls within PS-115 constituency, showed more election fervour than NA-245, without having any significant impact on the turnout. Workers of the MQM-H and the MQM gave each other dirty looks when they confronted on the streets, some areas even reported minor brawls and incidents of aerial firing.

At Qasai Chowk in Lines Area, the MQM-H set up its camp near an armoured personnel carrier, where women and men voters looked for their names on the voters' lists. "People are coming but the turnout is low," admitted Asif Khan, a party official. Men on motorcycle rode by shouting Naraye-e-Mohajir. Minutes later, the MQM announced that two of its female workers and a man were injured by the MQM-H workers at the same spot.

At the Government Girl's Secondary School, Jutt Lines, polling station, eight polling booths were formed but the turnout was low. Inside one classroom devoid of electricity, the women polling staff and agents sat idle. By 1pm, only 12 or 13 women had cast their vote out of a total of 300 registered voters. In the men's area, 91 of the 420 registered men had voted.

In the MQM-stronghold area near Ida Rieu School, the party camp buzzed with activity. Their rivals, the PTI and MQM-H had accused them of erecting the camp close to the polling station. A bandaged Haqiqi worker stood by and pointed at the MQM camp to say he was beaten up with sticks. At the MQM camp, a bearded official denied this claim. "The voting is going on peacefully. Why would we beat anyone when we are winning?"

Many voters also complained that their names were not on the voters' list. Others said the details given to them by the political parties on their voter cards differed from the lists held by the polling staff. A polling officer, Fatima ijaz, said that a number of women went back home after they couldn't find their names.

Against all odds

Despite the low turnout, there were many people who were excited to see democracy in action. Naveed Rasheed, a voter in Sindhi Muslim area, only went to his office to mark his attendance and rushed back to cast his vote along with his wife. "It's a national responsibility to use the right to vote to elect our representatives," he said.

Ayesha, a student of Karachi University, missed her class to cast her vote with her mother and aunt. She said that it took them no time as the polling station set up in the Islamia Girls College at Dhobhi Ghat was almost empty.

Published in The Express Tribune, April 8th,  2016.