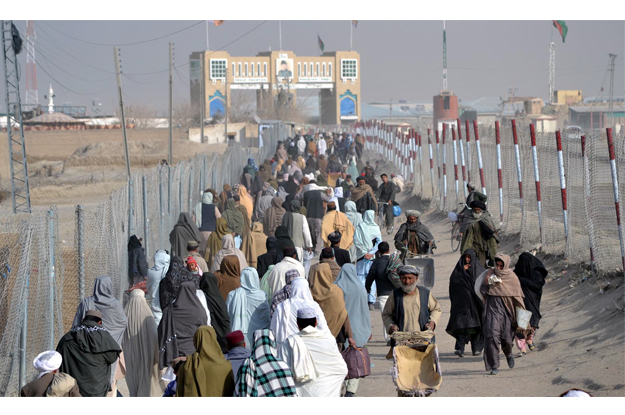 ---
LANDI KOTAL:



Afghan nationals residing in Torkham, Khyber Agency have been given a four-day deadline to vacate the area. They have been warned of strict action if they fail to comply.




Torkham political tehsildar Shakeel Khan told The Express Tribune the Khyber Agency political agent issued a notification on Thursday asking all Afghan nationals to leave the area and cross the border into Afghanistan. Besides Afghan nationals, political administration also directed all land and property owners to instruct their Afghan tenants to vacate their properties.

At Torkham: Illegal border crossings increase as fewer visas issued

Pretext of security?

The reasons for expulsion of Afghan nationals from the border town of Torkham could not be confirmed till this report was filed.

However, officials believe this is part of efforts aimed at streamlining border security management in the area since the notification comes days after Governor Iqbal Zafar Jhagra visited Torkham and reviewed steps being taken by political administration and other government departments regarding border security.

The government for the last several months has been making attempts to discourage illegal crossings across Pak-Afghan border at Torkham. In this respect, the Apex Committee held a meeting to discuss and review border security management on April 2 where Chief of Army Staff General Raheel Sharif was also present.

The forum decided to enforce the border-crossing mechanism in its true spirit and also send a high-level delegation to Kabul to engage Afghan authorities and seek cooperation for the resolution of the issue.

The Afghan government and tribespeople living on both sides of Pak-Afghan border are unhappy with the notification as it denies them the right to cross over.

Officials said nothing about the strength of Afghan nationals residing in Torkham but according to tribespeople, there were more than 200 families there. Almost all such families are engaged in trade, business and transport sectors. A similar number of Pakistani tribespeople, mostly from Shinwari and Afridi tribes, are residing in Afghanistan-controlled Torkham.

Torkham: 'Pak-Afghan border lacks security'

Enhanced security at the border might cause shifting of trade and business activities to recently operated crossing points in Afghanistan.

Operations in full swing

On the directives of SSP Operations Abbas Majeed Marwat, a search operation was conducted in Hayatabad in the provincial capital on Thursday. At least 32 Afghan nationals who were living in the area without registration papers were arrested.

Another operation was also carried out in Charsadda where seven Afghans residing in the area without having filed their tenant information forms were taken into custody. FIRs have been registered against them and investigation opened.

Following terrorist attacks in the province, a wide range of crackdowns against Afghans have been initiated. Action further intensified after Army Public school in Peshawar was attacked in December 2014.

Many Afghans have been deported to their country on the directives of the Pakistan government.

The backdrop

Since its inception in November 1893 and after partition of the Subcontinent in 1947 in particular, Durand Line separating Afghanistan and Pakistan has remained controversial.

Age limit to inoculate children at Pak-Afghan border extended

After 9/11, Pakistan and United States have made attempts to tighten security along Pak-Afghan border. In this respect, efforts to fence the area were made and while the plan was implemented in a particular part of Chaman in Afghanistan, opposition from Afghan tribespeople prevented its full enforcement.

While Chaman in Balochistan is also considered a busy crossing point, Torkham is declared the busiest border at an international level. Besides Torkham and Chaman, Angoor Ada in South Waziristan, Ghulam Khan at North Waziristan and Nawa Pass in Bajaur Agency are also important borders.

Response from Afghan government regarding the issue is still pending.

Published in The Express Tribune, April 8th,  2016.
COMMENTS (1)
Comments are moderated and generally will be posted if they are on-topic and not abusive.
For more information, please see our Comments FAQ