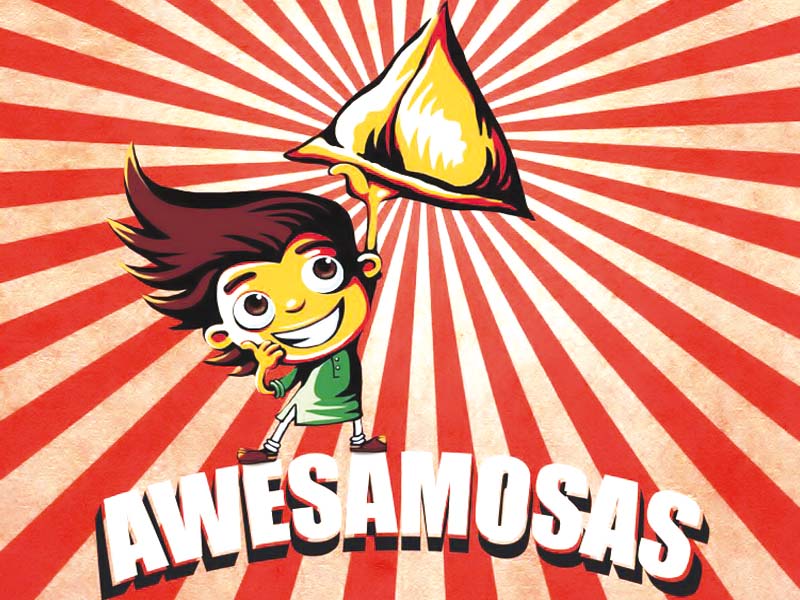 ---
LAHORE:
The first edition of Lahore Eat Festival wrapped up in February. While the festival has gathered a cult-like following in Karachi over the past two years, its only just picking up steam in Lahore. Nonetheless, one stall that stood out more so than others was Awesamosas. It generated considerable buzz on account of its unexpected sweet and savoury flavours and some very creative marketing. Awesamosas became so popular that they also set up shop at the recent Lahore Music Meet, along with a pop-up store in between, to ensure brand recall value.
The Express Tribune
spoke with the two budding restaurateurs — Daniyal Noorani and Seemi Sani — who are running Awesamosas and planning to launch it in Lahore's cut-throat food business.

"Lahore Eat was our market research,' shared Noorani. "It gave us a huge platform where 6,000 to 7,000 people could try our product in two days. The event was able to create hype around us and it wouldn't have been possible for us to launch as easily without it," he added.

Perhaps Awesamosas is taking cue from eateries like Karachi's Wingitt, which used Karachi Eat as a platform to test the market and launch right after. But does the concept hold real marketing value for restaurants? Noorani revealed that he and Sani began working on the idea four months ago. "I had this concept of doing these samosas. Seemi had food experience so I thought it would be an interesting partnership to work on," he said. "The initial idea was that we take the generic aloo and keema samosas to something more and expand on them. It's limitless!"

6 foods nutritionists are swearing by in 2016

The six main types of samosas Noorani and Sani are currently offering are the ones they thought performed the strongest. These include three savoury types, namely Dum ka keema samosas with smoked beef mince and onions, Caramelised onion samosas made of onions, balsamic vinegar and cheese sauce and Pizza samosas. Amongst the sweet variety, Awesomosas offers Apple pie samosas, Reese's samosas (made with the chocolate peanut butter cups) and Chocolate s'more samosas comprising marshmallows and chocolate. "We have one more savoury flavour in the pipeline: Spinach and feta cheese. There is also a Chocolate and Banana samosa being developed," shared Noorani.

5 tips for healthy snacking

Awesamosas seems like a refreshing addition to the mix of out-of-the-box food pairings, which so far have been restricted to Nutella and Oreo now. Of late, several joints have mushroomed across the country, adding foreign flavours to local comfort foods and delicacies, giving birth to a unique kind of fusion foods.

The samosas can sure give creators of Nutella naans, parathay and gol gappay a run for their money, especially if Noorani and Sani keep innovating.

5 tips for a snack that packs a punch

An important point to note in this regard is that the very name of their brand focuses on just one item. Could the duo have limited its growth prospects this way? "We aspire to be the Dunkin' Donuts of samosas. I think with samosas the possibilities are endless," quipped Noorani. For now, a plate of three samosas is priced at Rs200 and a dozen will cost 800 bucks.

Noorani and Sani plan on launching a restaurant very soon. "We plan to open in Cavalry but are still figuring the logistics out. We will probably do it in phases: start with a pick=up and build towards a dine-in facility," said Noorani.

Published in The Express Tribune, April 8th,  2016.

Like Life & Style on Facebook, follow @ETLifeandStyle on Twitter for the latest in fashion, gossip and entertainment.
COMMENTS
Comments are moderated and generally will be posted if they are on-topic and not abusive.
For more information, please see our Comments FAQ