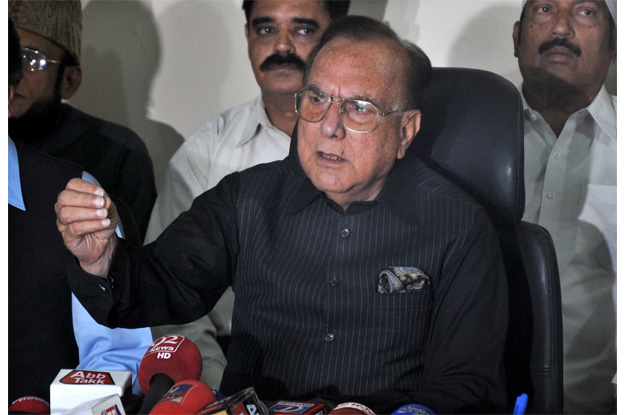 ---
LAHORE:



"The prime minister should resign from his office and present himself for accountability," Pakistan Peoples Party central Punjab president Mian Manzoor Ahmad Wattoo said on Wednesday.




Addressing a press conference, he said the judicial commission formed by the prime minister to investigate claims of corruption against his family members would not be seen to be impartial while Sharif remained prime minister. He said the prime minister should resign immediately and allow the National Accountability Bureau (NAB) to investigate the matter.

Wattoo said the prime minister should also make public details of his and his family's assets to restore people's trust in politicians. He said the Panama Leaks had raised suspicion of tax evasion and kickbacks by his family.

"They apparently transferred money out of the country through money laundering. Their investment in foreign countries and in offshore companies is now for the whole world to see," he added.

He said the judicial commission to probe the matter was "a joke". "It is no different from the one formed to investigate the Model Town killings."

He said the government had failed to implement the National Action Plan.

"In the Punjab, the NAP's implementation has been particularly poor. This is why our law enforcement and security agencies have failed to control terrorism," he said.

'Would have resigned if I were PM'

Pakistan Peoples Party south Punjab president Makhdoom Ahmed Mehmood said if he were prime minister, he would have resigned immediately after such allegations had surfaced about his family.

Talking to newsmen, Mehmood said, "One wonders how the prime minister's family transferred such huge amounts of funds to invest in offshore companies. Where did this money come from?"

Mehmood said the prime minister had disappointed and demoralised diplomatic circles by going out of the way to get closer to Indian government leaders.

Published in The Express Tribune, April 7th,  2016.