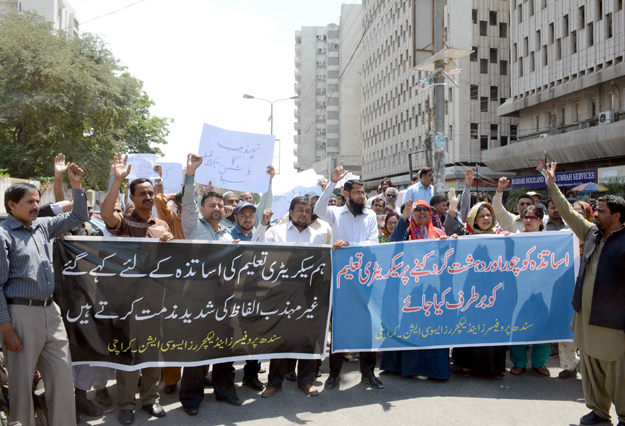 ---
KARACHI: Sindh Professors and Lecturer Association (SPLA) protested outside Karachi Press Club on Wednesday to record their disapproval against the committee formed by the education secretary Fazlullah Pechuho to resolve their issues.

Around 50 teachers took part in the demonstration in which SPLA announced that they will go for province-wide protests on April 25. SPLA said that they do not accept the committee because it does not have any representatives from the association.

"They cannot get away by just making a committee," said SPLA Karachi division head Ferozuddin Ahmed Siddiqui. The committee comprises secretary's own people, he said adding that why would anybody from the secretary's team resolve the issues of the teacher when Pechuho himself does not want to.

The teachers also complained that Pechuho is against their promotions. "They call us terrorists and say that we do not teach properly," said APWA college assistant professor Samina Shahid. The protesting teachers also demanded the Sindh government to resolve stipend issues. In Punjab, teachers who are completing their PhD and MPhil are given stipend of Rs10,000 and Rs 5,000 respectively by the government, Siddiqui said, adding that in Sindh's MPhil teachers are not being given any money from the government.

Karachi University Teachers Society representatives also took part in the protest and condemned the water cannon and baton charge by the police on the teachers on March 30.

Published in The Express Tribune, April 7th,  2016.