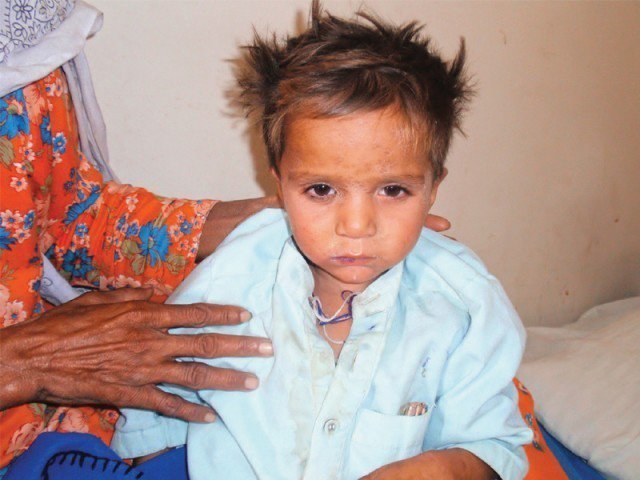 ---
HYDERABAD: Azeema Shaikh, a middle-aged women residing in a remote village in Hyderabad, did not know that an illness from which she had recovered at home in her childhood could kill her children.

For almost a week, she and her family applied home-based remedies for measles to cure her children -four-year-old Saleem and two-year-old Shahzadi - before they lost fight against the disease.

Disease eradication: Anti-polio campaign kicks off in Sukkur

"We are very poor ... can't afford to pay for transport from here to Kohsar [government] hospital," said Azeema's father, Wali Muhammad Shaikh, who interrupted her to explain why they did not take the two deceased siblings for medical help. The hospital is located in Latifabad near Hyderabad Airport.

"A rickshaw charges Rs300 from here to the hospital but we know that mostly people are referred from Kohsar to Bhitai hospital, which doubles the one-way transport charges," he added.

Saleem and Shahzadi are among seven children, aged between two to eight years, who died reportedly due to measles after an outbreak in Shaikh Muhalla and adjoining Allah Bux Brohi villages. Another 34 children, aged between one to nine years, of the two villages have been shifted to Kohsar hospital on Tuesday as the health authorities were caught unaware. Three of them are said to be in critical condition, suffering from pneumonia.

World Autism Day : Autism is a misunderstood, misdiagnosed disease

The measles focal person, Dr Ahmed, said that 24 children are still hospitalised, including 17 in Kohsar and seven in Bhitai Government Hospital. "The children [suffering from measles] were also undernourished," he told The Express Tribune, adding that many other children in the two villages who were found with symptoms of measles and malnutrition were admitted in the hospital later.

The deaths took place within the past seven to 10 days. However, the health officials realised the gravity of the situation on Tuesday, hectically shifting children with measles symptoms to the hospital.

"It's a lapse on part of the vaccinators," acknowledged Expanded Programme for Immunisation's Sindh director Dr Agha Ashfaq, while talking to the media during his visit to the villages on Wednesday.




For his part, Sindh health director-general Dr Hassan Murad Shah has initiated an inquiry to find out why the children in the villages of UC-96 of Hyderabad Municipal Corporation were not immunised. A vaccination drive in the UC, within a five-kilometre radius of the affected villages, has now been initiated. Dr Ashfaq also laid responsibility on the families because they failed to bring their children to the health centres to get measles' vaccination. But the responsibility may be misplaced since most of these people make a living from low-paid labour jobs, such as collecting fallen tree branches and stones.

16,000 children across country still unreachable for vaccination

More cases surface

Four more children from the two villages were brought with measles symptoms to Kohsar hospital on Wednesday. A total of 38 were admitted since Tuesday.

Hashim Shaikh, whose four sons aged three to nine years were brought to Kohsar hospital, also cited financial constraints which barred them from hiring transport to reach the government health facilities. "I wish the rush the health authorities are showing now had happened earlier. Seven lives could have been saved," he said.

Abdul Rehman Shaikh, a prayer leader at the local mosque, managed to arrange a rickshaw to bring his eight-year-old grandson to the hospital five days after he fell ill. "But we were not lucky enough to take him to the hospital," he said. "Perhaps we realised [that he needs medical help] in his last moments."

Kohsar hospital's medical superintendent Dr Ali Nawaz told The Express Tribune about the symptoms showed by the patients. "The children are reporting high grade fever, respiratory problems, cough and dehydration," he said. "Some of them had lapsed into pneumonia. We have referred them for better healthcare to tertiary hospitals."

Meanwhile, Hyderabad deputy commissioner Mutassam Abbasi admitted that Hyderabad Municipal Corporation's union council 96, in which these villages are located, has no health facility. "So, both for immunisation and healthcare, the families have to take children to other areas," he said.

Published in The Express Tribune, April 7th,  2016.