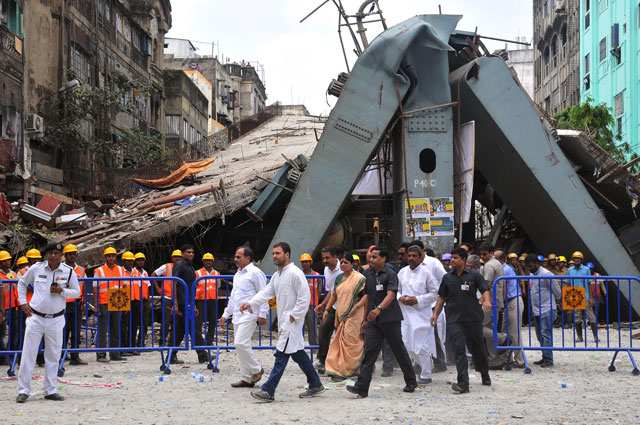 ---
KOLKATA: A ninth employee at an Indian construction firm was arrested Wednesday following a deadly flyover collapse, police said, as it emerged workers neglected to act at the first signs the bridge was failing.

The employee, a top official who oversees IVRCL's projects in eastern India, was hospitalised after falling sick following the accident that killed 26, joint police commissioner of Kolkata, Debasish Boral, told AFP.

"He was brought to the city police headquarters on Tuesday for interrogation in connection with collapse of the flyover. He was arrested on Wednesday after questioning," Boral said.

Hope fades for survivors as India flyover toll hits 25

The police commissioner also said four employees were arrested Monday, including two directors of operations and two engineers who were supervising welding at the time of the flyover's collapse.

All those arrested work for IVRCL, the contractor behind the ill-fated construction project in West Bengal. They face initial charges of murder, attempt to murder, conspiracy and mischief, and have been remanded in custody until April 11.

The arrests came as a state investigator said workers first noticed cracks appearing in a metal girder connected to a supporting pillar and bolts coming out about 20 minutes before the disaster.

But instead of taking steps to secure the bridge or alerting authorities to clear the busy street below, they tried to weld the cracks together hoping it would hold, the West Bengal official told AFP.

"The cracks appeared at the pier's junction with the cantilever arms and steel girder, and bolts came out during the casting of the concrete," the investigating official said on condition of anonymity.

"IVRCL engineers settled for a quick fix, that of welding the crack before concreting instead of a proper check," he added.

"The construction work continued without restricting traffic on the busy, congested stretch below the flyover."

He said workers also failed to alert engineers from the Kolkata Metropolitan Development Authority, which was overseeing the project, at the first signs of trouble.

A team from Rail Vikas Nigam, an Indian railway company, visited the site this week as they prepare to demolish the remaining wreckage, another government official said.

A special machine will be used to reduce vibration to prevent the rest of the structure from collapsing.

Rescuers pulled nearly 100 people out alive from under the huge concrete slabs and metal girders that fell onto the street immediately after the disaster.

IVRCL has denied responsibility for the accident, but a company representative infuriated victims on Thursday when he described the incident as an "act of God".

The tragedy is the latest in a string of deadly construction accidents in India, where enforcement of safety rules is weak and substandard materials are often used.
COMMENTS
Comments are moderated and generally will be posted if they are on-topic and not abusive.
For more information, please see our Comments FAQ