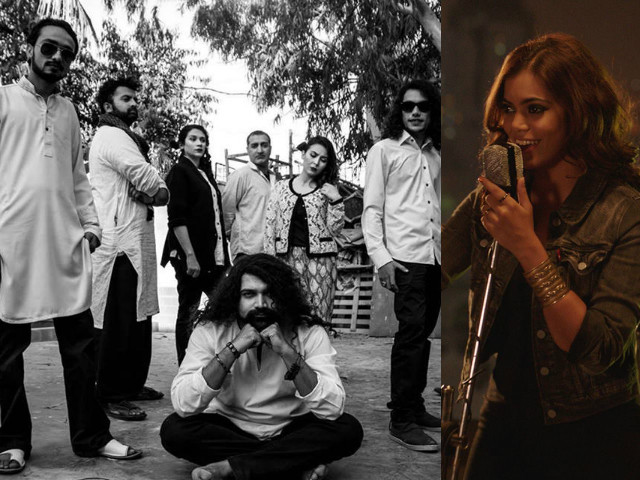 ---
KARACHI: After the tragic attack in Gulshan-e-Iqbal Park, musicians who had arrived in the city for the Lahore Music Meet, decided to pay a visit to the victims. Amongst them were Coke Studio backup vocalist Sara Haider and Sounds of Kolachi front-man Ahsan Bari, who lifted the spirits of the patients in Jinnah Hospital by performing an impromptu concert.

Speaking to The Express Tribune, Haider revealed what motivated her to go ahead with the visit. "A friend of mine had sent me images of people dressed up in Spider Man and other superhero costumes, visiting the children [at Jinnah Hospital] to cheer them up."

Feeling that she was in Lahore for a reason, the Ae Dil-singer asked her musician friend Ahsan Bari to tag along for the trip.

Still overwhelmed from his interaction with the survivors of the suicide attack, Bari termed it his "responsibility as an artist" to help audiences during this testing phase.

Adele pays tribute to Lahore bomb victims at concert




Toronto sign lit up green and white to pay tribute to Lahore blast victims

"For any artist, it is important that he understands the pain that society is going through because it also helps them understand not only the audience but further develop their own craft," said the musician, who also served as the vocalist for Raahi.

Referring to how every performer is "public property" owing to the love, adulation and success they receive from audiences, Bari believes it is important that they stand by fans during their hour of need.

"When the attack happened, I never uploaded a Facebook status or a lengthy note on social media about the suffering or hardships these people would be going through because I couldn't feel their pain. It was only after meeting them in person that I realised what they actually are going through."




"We never had this idea in mind, it was only after someone over there handed us a guitar that we started singing," shared Haider. The Coke Studio house band member – who has also volunteered as a teacher during her school days – stressed that the interaction with the patients should not be misinterpreted as a PR gimmick or "celebrity outreach" stunt by others.

Praising the hospital staff for their relentless efforts, the duo encouraged others to visit the victims as well saying, "Yeh Aap Ke Apnay Hain, Bhai (They are also your brothers)."




Zeb and Haniya pay tribute to Lahore victims in heartwarming music video

On March 27, at least 75 people were killed and approximately 340 were injured in a suicide bombing at the main entrance of the Gulshan-e-Iqbal Park in Lahore. Majority of the victims during this incident were either children or women, with the attack targeting people who were celebrating Easter Sunday.

Here's the duo performing for the victims:

COMMENTS
Comments are moderated and generally will be posted if they are on-topic and not abusive.
For more information, please see our Comments FAQ