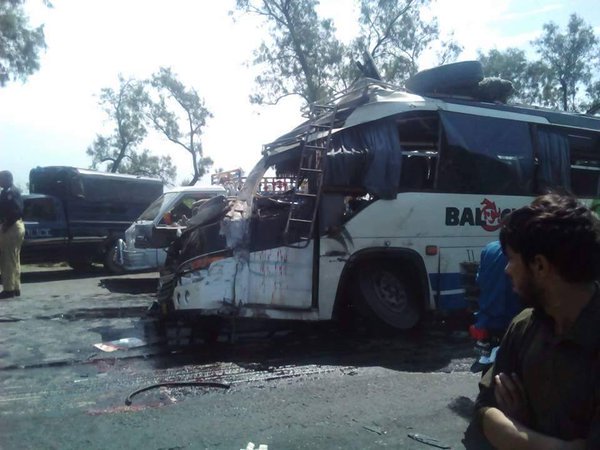 ---
MULTAN: At least 18 people were killed and 35 others sustained injuries in a road accident  in Punjab's Mianwali district when a passenger bus collided with a trawler truck on Wednesday.

According to the details, the bus was carrying passengers from Layyah to Mianwali when the tragic accident took place on MM Road in Chakk 19 ML, near Harnoli, killing 12 the people on the spot.

The incident took place at a distance of 40km from District Headquarters Hospital Mianwali where the injured and deceased were immediately shifted.

Police and elite force personnel reached the spot and took out the injured out of the bus.

13 killed as van falls into canal in Changa Manga

District Coordinator Officer Miannwali Rana Gulzar and Assistant Commissionaire Rana Shahid Hussain also reached the scene and emergency was declared at the Mianwali hospital.

Most of the people suffered head and spinal cord injuries, said Dr Hafeez Ullah.

AC Hussain told The Express Tribune that the bus was on its side, however, it jumped towards the wrong side when its tie-rod broke. "The accident happened due to over-speeding."

He added that 16 people were critically injured and brought to Nishter Hospital Multan due to shortage of neurosurgeons at the Mianwali hospital.

District Police Officer Mianwali Sadiq Khan said 12 people died on the spot while three succumbed to their injuries on their way to the hospital. Two passengers died in the Mianwali hospital during medical assistance while one died in the Multan hospital, he added.

At least 53 dead in Ghana after bus collides with truck

Protest over unavailability of doctors

After the injured were brought to the District Headquarters Hospital Mianwali, their relatives held protesting outside the hospital due to shortage of doctors.

Zubaida, one of the protesters, said her brother died because the doctor was not available immediately. "He could have survived if he was given immediate treatment."

Asad, another demonstrator, blamed the government for non-availability of doctors. "This is the responsibility of the government to employ doctors in all district headquarters hospitals."

AC Mianwali assured the protesting relatives that doctors will be called from other hospitals and proper treatment would be provided to the victims.

Neurosurgeons from Multan have also been called, he added.