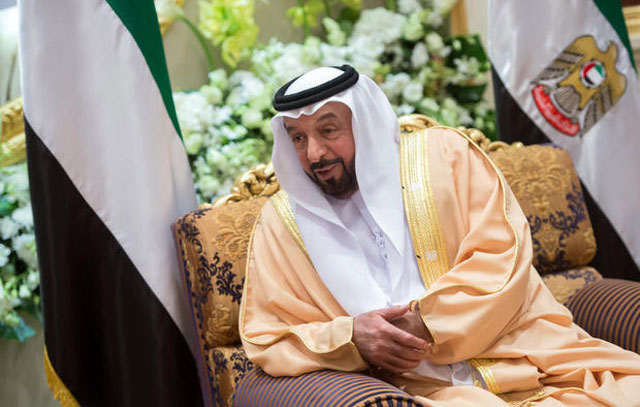 ---
LONDON: The president of the United Arab Emirates owns London properties worth more than £1.2 billion ($1.7 billion, 1.5 billion euros) through offshore companies revealed in the so-called Panama Papers, The Guardian reported on Wednesday.

Sheikh Khalifa bin Zayed Al-Nahyan was among numerous public figures named as owners of billions of pounds of central London real estate following the huge leak of documents from Panamanian law firm Mossack Fonseca.

Panama Papers: PM orders judicial probe into charges against family

Owning British property through offshore companies is perfectly legal, but it is controversial because such holdings obscure the identity of the owners, allowing them to avoid scrutiny and tax.

Sheikh Khalifa's property portfolio includes the BHS department store building on Oxford Street and the designer shops of Bruton Street and Berkeley Square, with tenants including Stella McCartney, The Guardian said.

Three children of Pakistani Prime Minister Nawaz Sharif have also been shown to own London real estate through offshore companies administered by Mossack Fonseca.

The Guardian reported that Sharif's daughter Maryam was the beneficial owner of two offshore companies that each own flats on the prestigious Park Lane. The premier has insisted his family has done "nothing wrong".

The newspaper also reported that former Iraqi prime minister Ayad Allawi was named as a director of two British Virgin Islands companies that bought a £2.75 million Kensington townhouse in 2008 and a £750,000 commercial building near Paddington in 2009.

British Prime Minister David Cameron said last year that more than 36,000 London properties were owned by offshore companies, amounting to £122 billion of property across the whole of England and Wales.

'Panama Papers' law firm says 'hacked by servers abroad'

While the "vast majority" of firms were legitimate, he said some high-value properties were being bought with "plundered or laundered cash" and promised to take action to improve transparency.

"There is no place for dirty money in Britain," Cameron said in a speech during a visit to Singapore.
COMMENTS (1)
Comments are moderated and generally will be posted if they are on-topic and not abusive.
For more information, please see our Comments FAQ