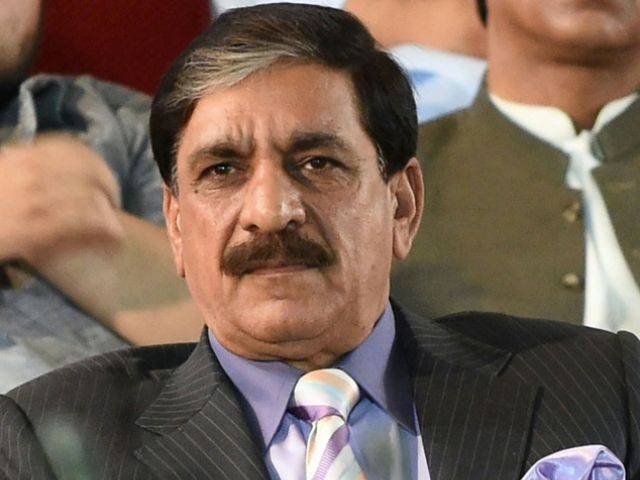 ---
ISLAMABAD:



Pakistan's top security adviser has sought immediate re-engagement between Pakistan and India in order to resolve all outstanding issues as he warned New Delhi's growing military spending is posing a threat to regional peace.




In a rare public appearance after his appointment as National Security Adviser in October last year, Lt Gen (retd) Nasser Khan Janjua told a global peace conference on Tuesday that Pakistan was committed to peace process with India and that "the two nuclear-armed neighbours should invest in peace for the security of their future generations".

India exploits our internal contradictions

Janjua's remarks come at a time when the two countries are struggling to revive a bilateral dialogue deferred indefinitely after the January 2 militant attack on an Indian airbase near the border with Pakistan.

Relations between the two countries further soured last month after Pakistan arrested an India spy, Kulbhushan Yadav, who admitted in a video confession that he had been working for the Research and Analysis Wing (RAW) to carry out subversive activities in Balochistan and Karachi.

The statement by Janjua suggests Pakistan is still willing to re-engage with India despite the recent incidents which have caused a hiccup in the peace process.

While calling for re-engagement with India, Janjua also highlighted the danger posed by New Delhi's policy of acquiring weapons and arms for the region in general and for Pakistan in particular.

He called on the world to shun the policy of discrimination against Pakistan and take steps to ensure strategic stability in the region. "Pakistan is a peace-loving nation, and supports political reconciliation for the revival of peace and tranquility in the region," he said.

Modi's Saudi visit part of push to 'de-hyphenate' India from Pakistan

Janjua said Pakistan is committed to the war against terror and has made major strides to rid the country of this curse. Our success will connect the world with the Central Asian states besides we will provide a gateway to China," he said, in a reference to the multibillion-dollar China-Pakistan Economic Corridor (CPEC).

Referring to the challenges faced by the Muslim Ummah, Janjua said conflicts should not be allowed to flourish and affect global peace.


Published in The Express Tribune, April 6th, 2016.