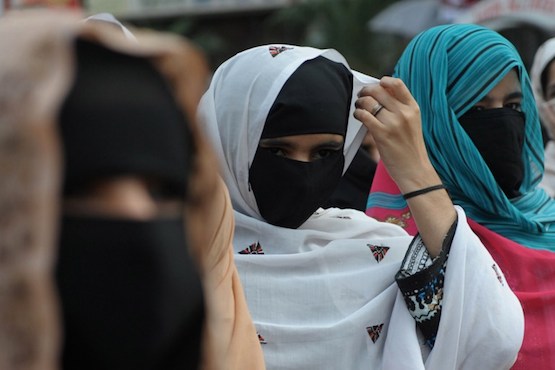 ---
PESHAWAR:



The absence of women from the meeting held in Landikotal, Khyber Agency to facilitate the FATA Reforms Committee did not go unnoticed. Representatives from Takrah Qabailee Khwenday have voiced their concerns; the forum seeks to safeguard the rights of women from the tribal belt.




According to a press release issued by the forum on Tuesday, members of the committee visited the region a day earlier. "The committee was headed by Adviser to Prime Minister on Foreign Affairs Sartaj Aziz," the statement read. "Governor Iqbal Zafar Jhagra, Federal Minister for States and Frontier Regions (SAFRON) Lieutenant General (retd) Abdul Qadir Baloch were among those who visited Landikotal."

As per the press release, two consultative sessions were held with stakeholders in Landikotal Jirga Hall.

"Although committee members met a large number of tribal elders, parliamentarians and journalists, [there were] scores of tribespeople who protested outside the hall," the press release stated.

In corridors of power: Equal opportunity for women stressed

Seeking representation

Takrah Qabailee Khwenday has demanded  adequate representation of tribespeople, particularly women, in reforms. According to the press release, representatives from the organisation said the plight of tribespeople has worsened with time. "Fata has become the epicentre of terrorism and the war against militancy," the statement quoted one of the representatives as saying. "Military operations have displaced a large number of people from their homes."

The statement added women from the tribal areas have faced a string of problems.

"A majority of people have lost their homes, property and [means of] livelihood," the press release stated.

It added, "Poverty has increased by 70% and illiteracy remains a problem. Female literacy rate stands at 3% and many girls continue to dropout from school."

As per the press release, health conditions are no exception and maternal mortality ratio in Fata is much higher than other parts of Pakistan.

"The people of the tribal belt operate on patriarchal values," read the statement. "Takrah Qabailee Khwenday believes women from Fata should also participate in discussions to decide the fate of the region. We strongly urge the governor of K-P to include women in discussions over the abolition of the Frontier Crimes Regulation."

In a first

On March 22, a large number of women from the tribal areas joined hands with those demanding the abolition of FCR.

They held a conference in Peshawar to highlight their reservations about the matter. This was the first time in national history that a group of women from Fata who are both educated and politically aware voiced their concerns about the status of the tribal belt.

Published in The Express Tribune, April 6th,  2016.