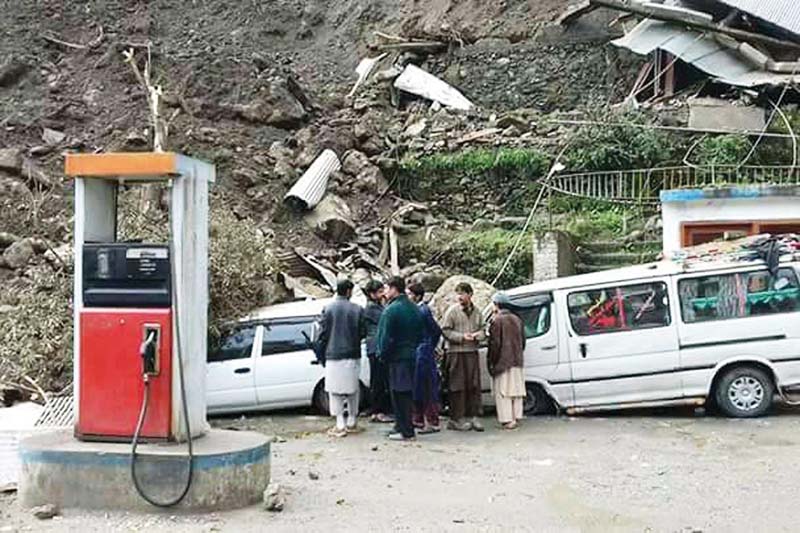 ---
PESHAWAR/ KOHISTAN:



Chances of survival for the 25 people thought to be buried in a landslide in Othar Nala, Kohistan dim after 36 hours. The death toll due to rains across Khyber-Pakhtunkhwa reached 61 on Tuesday, according to Provincial Disaster Management Authority.




"We are fully prepared to reach out to people of the affected area – two helicopters are stationed in Abbottabad to fly to Kohistan but inclement weather is the main obstacle," Hazara Division Commissioner Akbar Khan told The Express Tribune on Tuesday. He confirmed around 25 villagers were still buried under tonnes of debris. Two bodies and five injured were rescued. The latter were treated locally as the hill-locked locality was paralysed after massive landslides on both Karakoram Highway and the link road that leads to the affected village.

35 more feared dead after landslide hits houses in Kohistan

He added the government dispatched food and medicines for the calamity-hit people, but things could not be delivered to the villagers as both the land and air routes were inaccessible. However, the commissioner denied locals were facing any food shortage. He said military troops and civilian teams were busy clearing the roads.





Commuters walk on foot due to road blocks in Shangla. PHOTO: ONLINE




Pakistan Muslim League-Nawaz MPA from Kohistan Abdul Sattar Khan told The Express Tribune 25 villagers were still buried under the irremovable debris with thinning chances of survival. He said the five rescued villagers were being treated locally as medical teams had yet to reach the village.

When there's a will…

He rejected the claim of the commissioner that weather conditions were the main obstacle, saying a chopper could fly up to Dasu if not to the affected village. He said he spoke to Chief Minister Pervez Khattak, the governor and National Disaster Management Authority for emergency support but there was no response from them.

Rains kill at least 45 in parts of K-P, FATA

"Around 10 people from the affected village were on their own, attempting to dig the mountain of earth, gravel and stones with the hope of rescuing their loved ones," he said, lambasting at the provincial government for its poor response.

Abdul Sattar said KKH alone was blocked at 19 places since the last three days which shows how inefficient the government's response was to a calamity-struck area. He added he was en route to the affected village and would go on foot to Othar Nala. He demanded the government declare this an emergency and launch rescue and recovery operations.

During the early hours of Monday, lightning struck a hill overlooking a village called Othar Nala in Kandiya tehsil, triggering heavy landslides and floods that buried people of six to eight houses under the debris.

More rain expected

Out of the 188 deaths due to rain in one month, the most have been reported from K-P, 104. In Fata, 31 have lost their lives, while 14 have died in G-B. About the casualties, a PDMA spokesperson said the death toll is likely to increase.

In its weather advisory, Pakistan Meteorological Department has forecasted a fresh spell of rains was likely to begin Friday.

As a precautionary measure, the CM has directed PDMA to release additional funds to the affected districts – Upper Dir and Kohistan.

Army troops are working to restore communication and infrastructure in the affected regions of K-P and G-B. This was mentioned in a handout issued by Inter Services Public Relations.

It stated groups of engineers were employed to open roads blocked due to landslides.

Published in The Express Tribune, April 6th,  2016.
COMMENTS (1)
Comments are moderated and generally will be posted if they are on-topic and not abusive.
For more information, please see our Comments FAQ