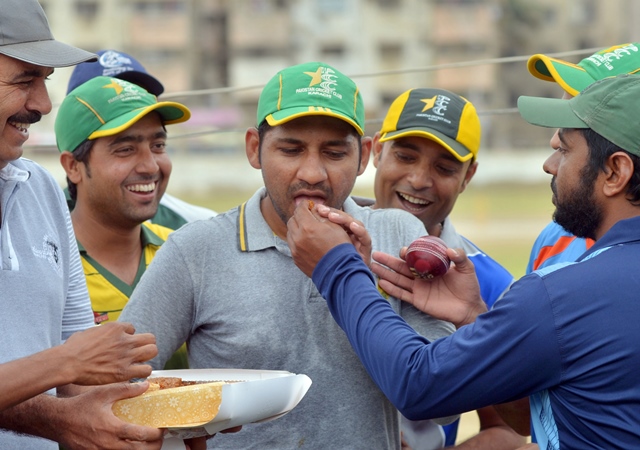 ---
Wicketkeeper-batsman Sarfraz Ahmed says it is an honour to be sworn in as the captain of the Pakistan T20I team.

"I am happy to have this opportunity and I am honored that Pakistan Cricket Board (PCB) has trusted my ability to lead the country," Sarfarz told ESPNcricinfo. "Indeed, this is a challenging job but at the same time, it's the highest privilege in a cricketer's life, so I am determined to do my best to justify my position as captain. I didn't make any future plan, but I will sit down with the PCB and will talk about it in due course."

Shahid Afridi steps down from T20 captaincy

He further added: "The best thing about me, I believe, is my ability to make contributions for the team. I always try to play my role whatever it is — batting or wicketkeeping — regardless of the situation or the number I bat on. The more important thing about me is that I remain in my limit and don't talk much. It's my cricket that speaks, and this is what a captain should be doing - lead form the front."

Former T20I captain Shahid Afridi also enlisted Sarfraz's traits in his tweet deeming PCB's decision a good one.


Good decision to see @SarfarazA_54 leading PAK T-20 he is energetic, passionate and a fighter!

— Shahid Afridi (@SAfridiOfficial) April 5, 2016
Congratulations to @SarfarazA_54 for becoming the captain of t20 cricket, very happy for u brother #BleedGreen #NewEra #pakistanzindabad

— Imad Wasim (@simadwasim) April 5, 2016
Congratulations @SarfarazA_54 for being appointed as Pakistan t20 captain.👏👏👏 best of luck brother 👍👍👍

— Azhar Ali (@AzharAli_) April 5, 2016
Congrats @SarfarazA_54 on ur appointment as T20 captain. Good wishes with u n prayers that u lead Pakistan to lots of success inn Shaa Allah

— Umar Gul (@mdk_gul) April 5, 2016


Earlier on Tuesday, a PCB press release announced the appointment of Sarfraz as the captain of the Pakistan T20I team.

"Pakistan Cricket Board (PCB) is pleased to announce the appointment of Sarfraz Ahmed as the captain of Pakistan T20I team," said a PCB press release. "Sarfraz was appointed vice-captain of ODI and T20I teams last year. He takes over the captaincy of the shortest form of the game from Shahid Afridi whose term as captain came to an end after the 2016 ICC World T20."

Not sure how Pakistan will use Afridi after relinquishing captaincy, says Sangakkara

Sarfraz has an average of 29.10 in 21 T20I outings for Pakistan with a strike rate of 120.24. Moreover, he has scored two half-tons for Pakistan in T20Is.

PCB chairman Shaharyar Khan also wished luck to Sarfraz on his appointment.

"I spoke to Sarfraz this morning and conveyed to him that he was our natural choice for this position," Shaharyar was quoted as saying in the press release. "His appointment is open-ended. I wish him good luck in his new role."

Waqar Younis steps down as Pakistan head coach

Meanwhile, Pakistan will play their next T20I against England on September 7, 2016.

On Sunday, Afridi took to Twitter and announced that he is stepping away from captaincy but will continue as a player for the national T20 team.

"Today I wish to inform my fans in Pakistan and all over the world that I am relinquishing the captaincy of the T20 Pakistani team of my own volition," said Afridi.

"I would also like to inform that InshaAllah I intend to continue to play the game for my country," he said further, adding that, "For me it was a great honour to lead my country in all three formats of the game."