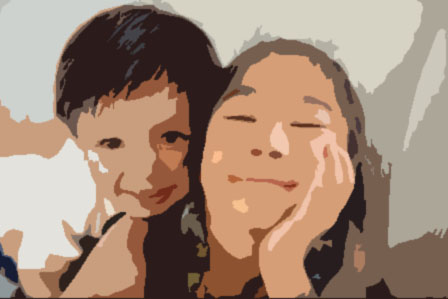 ---
Research suggests that while parents are the better role models in formal settings, children learn much of the informal ways of life from their brothers and sisters — and the impacts of that can last a lifetime. Did you know that your brothers and sisters can influence everything from your weight to your risk of divorce? As compiled from Daily Mail and Reader's Digest, get the exposé on how your siblings affect you.

Having many siblings lowers your divorce risk

If you come from a typical big family, you may be less likely to get divorced. Researchers at the Ohio State University analysed data from 57,000 Americans over a 40-year period and found that those with siblings are more likely to stay married than only children. Each sibling decreases a person's divorce risk by about two per cent. Bigger families and multiple siblings may allow more opportunities to practice worthy communication, compassion, and negotiation — basically, skills that may strengthen marriage

Being mum's favourite could influence depression

Were you always the preferred sibling or mum's personal pet? Disclaimer: This fact may not make you happy. Research conducted by the Purdue University and the Iowa State University found that depressive symptoms were most common in adult children who claimed to be closer to their mothers than their siblings were. Sibling rivalry may also play a giant role — a mother's attention may not invalidate negative attention from jealous siblings, or favourites may be likelier to care for an aging mother, which can take an emotional toll on them later in life.

8 over-cleaning habits that are ruining your things

Heavy siblings raise your risk of being obese

Another not-so-good news coming your way! Your siblings have more pull than any other family members when it comes to your weight. A study published in the American Journal of Preventive Medicine found that having an obese older sibling could make a child up to five times more likely to become obese themselves, regardless of their parents' weight. Gender also comes into play. The findings showed that, for same-sex siblings, a younger boy with an obese older brother is 11.4 times more likely to be obese and a younger girl with an obese older sister is 8.6 times more likely to be obese. A younger boy with an obese older sister was 6.6 times more likely to be obese.

Having a brother can increase a sister's caregiving burden

Responsible sisters, look out: you'll likely provide more care to your aging parents than your male siblings. Research conducted by the Princeton University found that daughters tend to bear the brunt of caregiving duties for elderly parents and that sons may pass on these responsibilities to their sisters. The research suggests that because women are often raised to be caregivers, an older woman might feel less comfortable with her son taking care of her than her daughter. Do you feel you may be stuck in a similar situation? No matter the reason for your family's distribution of responsibilities, have a family discussion to make sure no one feels overawed or taken advantage of.

5 facts about crying that explain a lot

Sibling bullies can leave lasting effects

Of course, the occasional sibling fights are inevitable and expected but constant teasing can create lasting hurt. Research indicates that kids who were bullied — which the researchers defined as being subjected to name-calling and being made fun of, as well as physical violence, like being hit or kicked —were more than twice as likely to report depression or self-harm at age 18, as compared to those who weren't bullied by siblings. They were also nearly twice as likely to report anxiety. Parents, be alert! Research suggests that intervening in sibling bullying would likely improve children's mental health in the long run.

Zero siblings? Don't sweat it: You're not destined to be a brat!

If all this sibling discourse has got you anxious, take relief in knowing that recent studies have found that children without siblings are no less capable of connecting with their peers than those raised with siblings. One Ohio State University study tested high school students' popularity by asking them to list up to five male and five female friends, and then tallied the overall number of votes each participant got. Students were "nominated" an average of five times, and their scores were not influenced by the presence of siblings. "Kids interact in school, they're participating in extracurricular activities, and they're socialising in and out of school," study co-author Donna Bobbit-Zeher said in a news release. "Anyone who didn't have that peer interaction at home with siblings gets a lot of opportunities to develop social skills as they go through school." Phew!

Published in The Express Tribune, April 5th, 2016.

Like Life & Style on Facebook, follow @ETLifeandStyle on Twitter for the latest in fashion, gossip and entertainment.
COMMENTS
Comments are moderated and generally will be posted if they are on-topic and not abusive.
For more information, please see our Comments FAQ