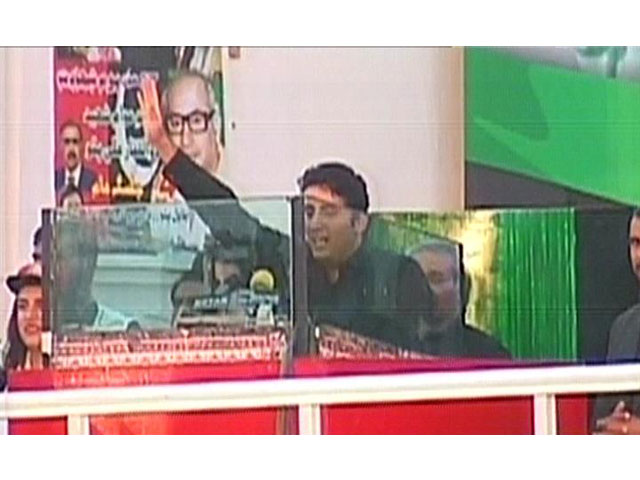 ---
Pakistan Peoples Party (PPP) chairman Bilawal Bhutto Zardari said on Monday that Zulfikar Ali Bhutto's execution was the murder of humanity, democracy and the Constitution.

"Bhutto's hanging was the murder of humanity, democracy and the Constitution," he said while addressing a gathering on the occasion of 37th death anniversary of the PPP's founder and former prime minister in Garhi Khuda Bux, Larkana.

While paying homage to his grandfather, Bilawal said the large number of people's gathering from across the province in this far-flung area is a testament of their support for the party's founder.

"I also ask the establishment and political leaders why the founder of the party [PPP] was judicially killed 37 years ago from today," he added.

Questioning the ruling government's recent decision to allow former military ruler Pervez Musharraf to travel abroad, he said, "I ask PM Nawaz Sharif why this [Musharraf] traitor and dictator, who broke the Constitution twice and was accused of murdering Benazir Bhutto, allowed to get away."

We can't have one kind of Pakistan for Musharraf and another for Benazir: Bilawal

Bilawal reiterated that why do we have one kind of Pakistan for Musharraf and a different Pakistan for Benazir Bhutto – the former prime minister who was assassinated in 2007 after returning to Pakistan from self-imposed exile.

"God will take care of those involved in the acts of tyranny and suppression," he added.

Rebuking the ruling Pakistan Muslim League-Nawaz (PML-N), the PPP chairman said the rulers have burdened the nation under severe debt. "Pakistan would have gone defaulter had the prices of oil not fallen in the international markets."

Qaim Ali Shah freezes funds released for Bhutto's anniversary

Bilawal also asked PM Nawaz to take advice from his father Asif Ali Zardari if he is facing trouble running the affairs of the government.