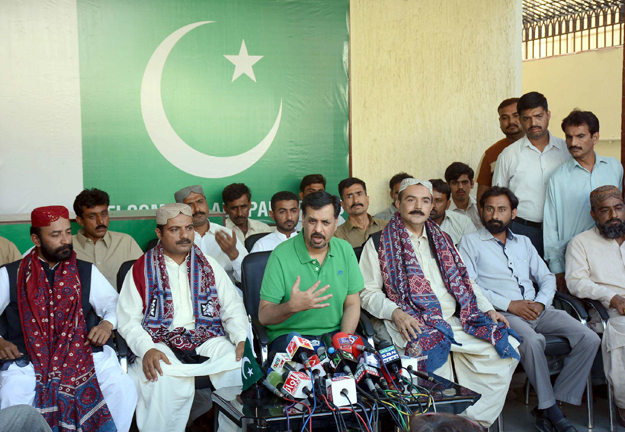 ---
KARACHI: A former senator of the Muttahida Qaumi Movement (MQM), Muhammad Ali Brohi, joined on Monday Mustafa Kamal's newly-formed Pak Sarzameen Party along with 11 members of the party's Sindh Tanzeemi Committee and zonal heads.

Brohi had joined the MQM in 2002 and worked as senator between 2004 and 2009. He said he joined the MQM thinking he would promote unity among Sindhi-and-Urdu-speaking communities but, he added, that the party adopted a policy of causing enmity among Sindhis and working against the country. Monday's press conference, which lacked the usual explosive remarks and accusations, was dominated by Kamal, who shed light on the way MQM used the Muhajir card. "When they want ministries, they put pressure on the PPP [Pakistan Peoples Party], play the Muhajir card and talk of breaking up Sindh," said Kamal. "And when they get the ministries, [Altaf] shuns the demand. He doesn't care about the hatred he sows between Urdu-speaking and Sindhis."

Kamal challenged MQM's Farooq Sattar to bring documentary evidence and proof against him, and asked him to hurry since he called the MQM chief a RAW agent and a drunkard. Altaf's property and money in Dubai should be questioned, demanded Kamal, adding that the MQM chief was now naming it after his relatives.

The former nazim asked his Sindhi brothers not to take Altaf's addresses seriously. One day he will talk about forming new provinces, the other day he plays his Muhajir card, he said. Kamal announced that his party will open up more offices in Karachi in the coming days, adding that his team has already started working at informal offices across the country. Pak Sarzameen Party plans to hold a rally on April 24 — a date that Kamal called a turning point. The next morning, there will be no one left to make someone a RAW agent or a target killer, he said.

Responding to the attack on his caravan in Mirpurkhas, Kamal said that he instructed his workers not to throw a single rock back at those who threw stones at him. Meanwhile, MQM spokesperson in London and Rabita Committee member Wasay Jalil tweeted that it was blatant lie by the former senator that he was being used as a tissue paper. Without naming Brohi, Jalil said that Brohi couldn't even have been elected as a councillor but the MQM made him a senator.

Published in The Express Tribune, April 5th, 2016.
COMMENTS (6)
Comments are moderated and generally will be posted if they are on-topic and not abusive.
For more information, please see our Comments FAQ