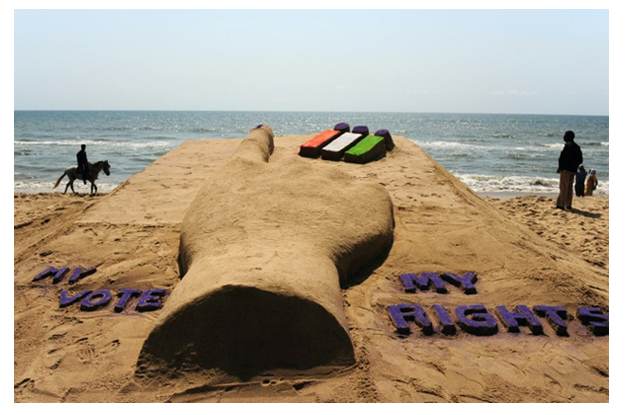 ---
KOLKATA: Millions of voters head to the polls Monday in two Indian states, with premier Narendra Modi's Hindu nationalists facing a tough fight against regional rivals and traditional foes in their bid to tighten their grip on power.

Polls open at 7 am (0130 GMT) in the large, rural state of West Bengal where Modi's Bharatiya Janata Party (BJP) is seen as having little chance against a feisty chief minister popular with teems of impoverished voters.

Analysts say Modi has a stronger chance of snatching power for the first time in tea-growing Assam where the right-wing BJP has opposed illegal immigration from neighbouring Muslim-majority Bangladesh.

The BJP desperately wants to win state elections to give it more control over the national parliament, where Modi's government is trying to push through much-needed legislative reforms but lacks a majority.

Seats in parliament's upper house are allocated according to political parties' strength in India's state assemblies.

Since sweeping to power nationally two years ago promising business-friendly reforms to overhaul the economy, Modi has suffered a humiliating blow with losses in two critical state polls in 2015.

"The BJP is clearly not doing well in the state elections, and if they do not win one in 2016, they would have gone without having won a single state election for nearly two years, which is not good for any party," said Neelanjan Sircar, a senior fellow at the Centre for Policy Research, a New Delhi-based think tank.

On Monday, some 3.8 million voters are eligible to cast their ballots in eastern West Bengal and another 9.4 million in Assam to the remote northeast.

Monday's elections are just the first phase, with voting staggered throughout both states in the coming weeks.

Analysts say the BJP will struggle to establish a toehold in West Bengal where Chief Minister Mamata Banerjee's Trinamool Congress remains popular for its pro-poor policies, after ousting a long-ruling communist party in 2011.

Banerjee, who is battling a left-wing alliance, has however, been hit by a last-minute political row over the collapse last week of a flyover in Kolkata that claimed 26 lives.

"The only state in which the BJP may do well is Assam, and it is important for them to win this so that their base feels energised and morale of the party workers is boosted," Sircar said.

The BJP has teamed with local parties supporting indigenous rights and opposed to illegal immigration into Assam, where analysts say the traditionally dominant Congress party's popularity is waning.

Security will be tight in West Bengal, with several of the seats up for grabs located in impoverished Maoist-rebel strongholds where militants have long been fighting against government rule.

Armed police are being deployed, along with overhead helicopter surveillance, in a bid to ensure polling runs smoothly, election commission officials have said.

Another three states, Tamil Nadu, also led by a regional rival, Kerala and Pondicherry also hold elections later this month and next.

Counting and the release of results for all five will take place on May 19.