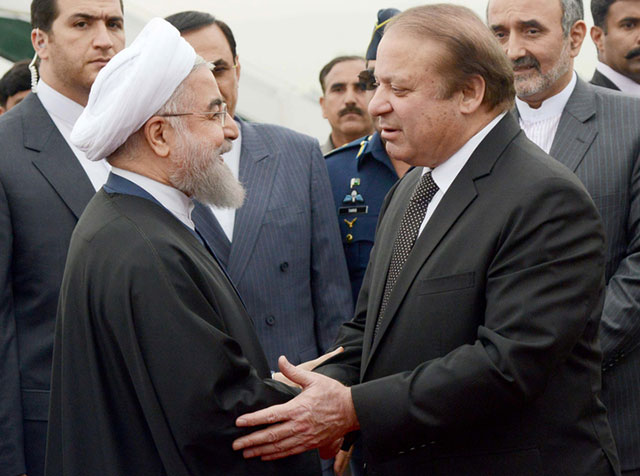 ---
ISLAMABAD:



Pakistan formally sought Iran's help on Thursday to uncover India's subversive activities against it even as Tehran claimed some elements were trying to undermine its ties with Islamabad by spreading rumours.




In a communiqué addressed to Iran's ambassador in Islamabad, the interior ministry requested Tehran to arrest and hand over the accomplice of Indian spy Kulbhushan Yadav to Pakistan.

Iran's help sought to stop RAW-backed terror

During interrogation, Yadav, who was arrested in Balochistan on March 3, confessed that he had been posted by India's Research and Analysis Wing (RAW) at Chabahar, Iran, to conduct espionage and sabotage activities against Pakistan.

He revealed that he was assisted in his mission by RAW Sub-Inspector Rakesh, who was working at Chabahar using the cover identity of a jeweller named Rizwan. According to Yadav, Rakesh alias Rizwan was dealing in jewellery at shop number 709 of Chabahar's Abresham Mall.

In addition to Rakesh's arrest and handover, the interior ministry asked Iranian authorities to provide the complete record of Yadav's visits to Iran, including the cities he visited and the duration of his stay at each location.  It also asked for information on the people Yadav and Rakesh interacted with in Iran, as well as details on the RAW network operating in the country.

The communiqué sent to the Iranian ambassador stressed that Yadav entered Pakistan illegally to carry out subversive activities, including sabotage plots against the multibillion-dollar China-Pakistan Economic Corridor (CPEC). It said that although India has officially denied involvement in Balochistan, "the evidence in this case stands confirmed by Yadav's arrest."

"Activities by [Indian] state-sponsored actors using Iran's territory can undermine the existing peaceful environment in the Pakistan-Iran border area," the letter said. It added that Tehran's assistance in this respect to Pakistan will not only further strengthen the two countries' 'brotherly' relations but also greatly reduce terrorism and unrest in the region.

Iran lashes out at 'offensive' rumours

Tehran has denounced "rumours" aimed at undermining the fraternal and friendly relations between Iran and Pakistan, a statement issued by Iran's embassy said. "During the past few days, some sections of the Pakistani media have spread content regarding the detention of an Indian agent and the matter related to it, which could have negative implications on the fraternal and friendly atmosphere of Iran and Pakistan," the statement said.

Indian meddling: Shah urges govt to raise Indian spy arrest at UN

This was the second time Iran had to clarify its position on the issue. Earlier, President Rowhani had denied that he discussed the matter with the Pakistani leadership during his visit last week.

Pakistan's chief military spokesman on the other hand had clarified that while army chief General Raheel Sharif discussed RAW's anti-Pakistan activities with Rowhani, he did not specifically take up the issue of Yadav.

Following the arrest of Indian spy, Islamabad requested Iran not to allow its soil to be used by RAW for subversive activities against Pakistan. However, the Iranian embassy clarified that "the Islamic Republic of Iran during seven decades since independence of Pakistan has always proved itself as a confident partner and neighbour for that country and the western borders of Pakistan have never been threatened."

It also reiterated that Iran considers its borders with Pakistan as borders of peace and friendship. "Security of Iran is security of Pakistan and security of Pakistan is security of Iran," the statement added.

"The Embassy of the Islamic Republic of Iran believes spreading of such news items is the product of thinking which does not like further expansion of ties between the two countries and is against the fruitful materialisation of the agreements made during the visit of the president of the Islamic Republic of Iran and believes that Muslim and aware people of Pakistan attach special importance and value to the friendship and brotherly ties with Iran and spreading of undignified and insulting contents would not have impact on the positive and cordial views of two countries regarding each other."

Pakistan may not give India consular access to RAW officer

Meanwhile, during his weekly briefing on Thursday, Foreign Office spokesman Nafees Zakaria said Tehran has assured Islamabad that nobody will be allowed to use Iran's soil against Pakistan.


Published in The Express Tribune, April 1st, 2016. 
COMMENTS (17)
Comments are moderated and generally will be posted if they are on-topic and not abusive.
For more information, please see our Comments FAQ