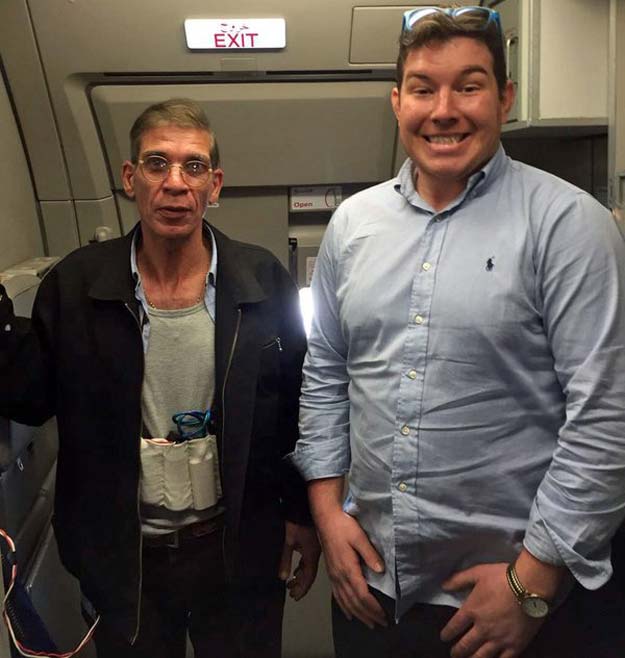 ---
A British man who posed for a smiling photo with a hijacker on board an EgyptAir flight said he did it to take "a closer look" at the apparent explosives belt.

"I got one of the cabin crew to translate for me and asked him if I could do a selfie with him. He just shrugged OK, so I stood by him and smiled for the camera while a stewardess did the snap. It has to be the best selfie ever," Ben Innes said of the photo.

Hijacker of EgyptAir flight arrested as Cyprus airport drama ends


Ben Innes from #Aberdeen poses for a picture with #EgyptAir #MS181 hijacker. pic.twitter.com/ywdGYuDWwm

— Paul Smith (@Journo_Paul) March 29, 2016


The 26-year-old health and safety auditor was one of the three passengers and four crew members to be released last by the hijacker. Seif Eldin Mustafa had hijacked the EgyptAir flight which had 62 people on board bound for Cairo from Alexandria and forced it to be redirected to Cyprus on Tuesday. He has since been arrested and the plane's passengers and crew were able to escape unharmed.

The photo was taken in the cabin of the Airbus 320 when the plane landed at Larnaca airport and was sent by Innes to friends in the UK from the plane. The bomb was later found to be fake.

Innes asked for a photo with the hijacker after half an hour of landing in Larcana. "I'm not sure why I did it, I just threw caution to the wind while trying to stay cheerful in the face of adversity. I figured if his bomb was real I'd nothing to lose anyway, so took a chance to get a closer look at it," Innes told the Sun.

Innes' stunt was decried by security experts, praised by relatives, and said to be "totally in character" by friends.

Man accused of EgyptAir hijacking appears in Cyprus court

"Only Ben could get a selfie! #proud," reportedly tweeted Sarah Innes, a relative. Her account was later deleted.

Although dubbed a 'selfie', Innes' mother Pauline Innes has argued that it was clear her son did not take the image himself.

"All we can say is that the picture is clearly not a selfie as everyone has been describing it," she said. "You can clearly see that it is not Ben who is taking the picture. He's in it but he's not taking it."

Many took to Twitter criticising Innes' act as stupidity.


EgyptAir hijacking jst shows ppl's idiocy: frm Ben Innes' photo to the Cypriot president's amusement.Fragility of security not so hilarious

— Tara Hanley (@reading_woman) March 30, 2016
The world is going nuts-#nocomments EgyptAir hijacker selfie: Ben Innes on taking a photo with Seif Eldin Mustafa https://t.co/lmXrfyn5St

— Elisa Bruno 💾 (@ElisainBrussels) March 30, 2016
The world has gone mad....a SELFIE!... https://t.co/IMqsG77L5p

— Q105Toledo (@Q1055Toledo) March 30, 2016
EgyptAir hijacker selfie: Ben Innes on taking a photo withhttps://t.co/fYcxSmucwc

1 - it's not a "selfie"
2 - What a twat

— NEILJUNG67 (@NEILJUNGERS67) March 30, 2016
Ben Innes 'risked lives' so he could boast to pals with 'selfish bomber selfie' https://t.co/nny68jbVjd

— Shail60 ✝️ (@shailesh23660) March 30, 2016
"There is a sense that something hasnt happened unless youve a) photographed it b) shared it." @Freedland @BBCr4today #r4today #beninnes

— Colin Heinink (@Albiestar) March 30, 2016
"Ben Innes on taking a photo with Seif Eldin Mustafa https://t.co/LLlzCRJtsB pic.twitter.com/KyKhnzNJ9Y" >> Beyond idiotic. 5 mins of fame etc

— Helen (@didsburylife) March 30, 2016
https://t.co/Zk32rDY49F

Err, no its not a selfie, and whats 'best' about it? Is stupid grin the new duck-face?

— Vince (@V1ND0N) March 30, 2016


https://twitter.com/adamjone5/status/715089233694867456

However, the 26-year-old did win some admirers


This is the kind of guy you want to invite to your parties. https://t.co/so8TmZC4Y4

— Jason Mashak 📡 ✨ (@jasonmashak) March 30, 2016
Grinning Brit Posed With Plane Hijacker https://t.co/wqRLTrcjjC Never been more proud to be British. Ben Innes for Prime Minister.

— Mike Bubbins (@MikeBubbins) March 30, 2016


https://twitter.com/jonnysuntan/status/715094037313818624

https://twitter.com/davidd321/status/715093172393811968


I love the madness of this - having your pic taken with a suicide bomber - well done #BenInnes pic.twitter.com/kal0G7haE6

— Bob Bobert (@Bob_Helensburgh) March 30, 2016
Respect due to the guy from Leeds who got a selfie with the Cyprus hijacker https://t.co/I1HXVi9v5r

— Richard M (@MarsRich) March 30, 2016
I love the story of #BenInnes getting a photo with what could have been a suicide bomber. The smiles great!

— Mark. (@MarkRedVan) March 30, 2016
This article originally appeared on Guardian
COMMENTS (3)
Comments are moderated and generally will be posted if they are on-topic and not abusive.
For more information, please see our Comments FAQ