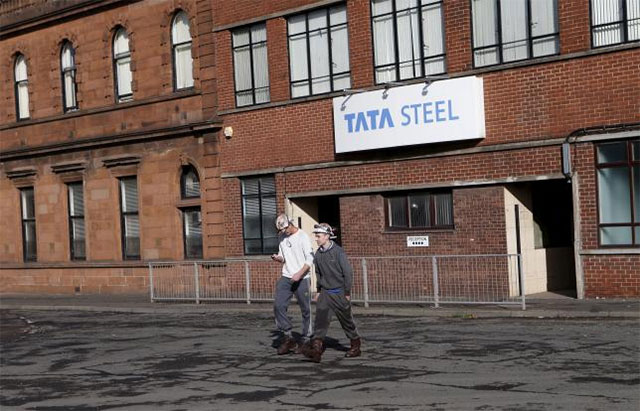 ---
MUMBAI: India's Tata Steel, Britain's largest steelmaker, put its entire UK business up for sale to stem heavy losses, a move that would draw a line under its almost decade-long foray into Britain's declining steel industry.

After a marathon board meeting in Mumbai, the steel giant said the financial performance of its UK arm had deteriorated sharply in recent months, following years of weak conditions which have already forced it to shed hundreds of jobs.

Tata Steel to cut 1,050 more jobs in Britain: union

Blaming high manufacturing costs, domestic market weakness and increased imports into Europe from countries like China, Tata saw little change in the competitive position of its UK operations, which employ about 15,000 people and include Port Talbot, Britain's largest steel plant.

As a result, Tata said in a statement its European arm would "explore all options for portfolio restructuring, including the potential divestment of Tata Steel UK, in whole or in parts".

"Given the severity of the funding requirement in the foreseeable future, the Tata Steel Europe Board will be advised to evaluate and implement the most feasible option in a time-bound manner," it added.

Tata Steel bought Anglo-Dutch steelmaker Corus in 2007 and has since struggled to turn the giant around.

The company said it remained in talks with the UK government, which has expressed concern about job losses in the industry. Port Talbot, though far from its 1960s peak, still employs about 4,000 people, and Tata is one of the most significant private companies in Wales.

Unions welcomed the decision not to shutter the plants but called on Tata to be a "responsible seller" and on the government to play its role.

"We don't want just want more warm words, we want a detailed plan of action to find buyers and build confidence in potential investors in UK steel," Roy Rickhuss, general secretary of steelworkers' trade union Community, said.

The opposition Labour party called on the government to save an industry it described as "the cornerstone of our manufacturing sector". Labour leader Jeremy Corbyn again suggested a part nationalisation of the steel industry if necessary.

The government has said it is ready to work with Tata.

Tata's troubles

Most steel companies, including top producer ArcelorMittal, have been hit by plunging prices due to overcapacity in China, the world's biggest market for the alloy, making Tata's task of finding a buyer all the more difficult.

Tata Steel, Britain offer more aid to steel town

"Tata Steel might not be able to find an immediate buyer for the UK business, but after six months that could be possible as Europe is expected to take some action on the cheap imports that is flooding the region," said Ashish Kejriwal, an analyst with brokerage Elara Capital in Mumbai.

Tata Steel is the second-largest steel producer in Europe with a diversified presence across the continent. It has a crude steel production capacity of over 18 million tonnes per annum in Europe, but only 14 mtpa is operational.

Two of its three main units, Port Talbot and Scunthorpe, are in Britain, with the remaining operations in the Netherlands.

Its share price has halved in the past five years, a period in which it recorded asset impairment of more than $2.88 billion related to the UK business.

The stock opened about 2 per cent higher in Mumbai on Wednesday, as investors welcomed the decision to shed a burden on its Indian operation which also has been badly battered by cheap imports from neighbouring countries, especially China.

For the year ending March 2015, the company took a write-down of a little over a billion dollars in its consolidated numbers. However, the tide seems to be turning for the India operations, and many analysts expect it to post an improved operating profit from the next fiscal year.

Tata also said in its statement that it was still in talks with investment firm Greybull Capital over the sale of its British long products unit, which makes steel for use in construction. Talks with Greybull were announced last year.
COMMENTS (2)
Comments are moderated and generally will be posted if they are on-topic and not abusive.
For more information, please see our Comments FAQ