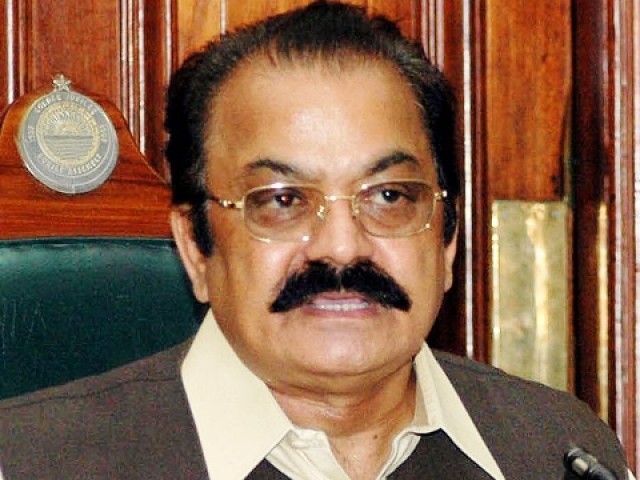 ---
LAHORE: A Punjab-wide intelligence-driven crackdown against suspected militants and their facilitators has been ongoing since Monday. Notwithstanding, the provincial law minister denied on Tuesday there was any safe haven or organised presence of militants anywhere in the province.

"I challenge everyone, come, visit any region of Punjab and show us one single safe haven of militants," Rana Sanaullah told a news conference at 90-Shahrah Quaid-e-Azam – two days after a suicide bomber killed 73 people – mostly women and children – at a recreational park in the heart of Lahore. He was flanked by senior police and administration officials, including the provincial police chief, the home secretary and the government spokesperson.

Sanaullah sought to quash the impression created by Monday's media reports that the military and paramilitary forces have launched a new operation without coordination with the provincial police. "It is a national operation. All law enforcement agencies and civil and military intelligence agencies are involved," he added. "An operation against terrorists was already under way across the province, but now it is being carried out in a more organised way."

In order to drive his point home, Sanaullah referred to "several intelligence-based operations (IBOs) jointly carried out" by the police, the elite force, the counter-terrorism department, paramilitary Rangers and Pakistan Army since the launch of Operation Zarb-e-Azb.

He claimed that the political leadership, religious parties, opposition and the government were on the same page vis-à-vis the ongoing operation against terrorism. "An operation will also be launched in the Kutcha areas of Punjab."

The home minister said that the provincial government was implementing the 20-point National Action Plan against terrorism which was conceptualized by the political and military leadership following the December 2014 massacre of schoolchildren in Peshawar.

"We have 15,000 madrassas (Islamic seminaries) in Punjab – and all of them have been geo-tagged. Now, we know exactly how many students, teachers and foreigners are there," he added.

He said 150-plus raids have been carried out across Punjab since the deadly suicide bombing at Gulshan-e-Iqbal Park.

Giving the breakdown, he said: "In last 24 hours police have conducted 56 operations, and CTD 16, while other intelligence agencies have conducted 88 raids." He added that in all, 5,521 suspects were detained in these operations. Of them 5,005 were released, while 216 are still in custody."

Sanaullah admitted they had intelligence reports about a possible terrorist attack in an area frequented by the Christian community on the eve of Easter. "But we didn't have specific intelligence that terrorists might target a public park," he added. "The prime minister has rightly pointed out in his Monday's televised address that terrorists are being eliminated effectively – and now in their frustration they are attacking soft targets."

The home minister said the provincial administration has formed a joint investigation team to investigate the Gulshan-e-Iqbal Park bombing and submit its findings. The SSP CTD is heading the JIT which has representation of the Intelligence Bureau and Inter-Services Intelligence (ISI). "On the prime minister's instructions, coordination between various intelligence agencies is being increased."

About a man initially identified by the police as possible suicide bomber, Sanaullah confirmed that he was a victim, and not the attacker.

"The torso of Muhammad Yousaf was torn into pieces in the blast which led investigators to believe he might be the bomber because this is what happens to the bombers in suicide attacks," he added. "DNA tests and forensic reports will establish the identity of the bomber in the next few days."

Published in The Express Tribune, March 30th,  2016.
COMMENTS (2)
Comments are moderated and generally will be posted if they are on-topic and not abusive.
For more information, please see our Comments FAQ