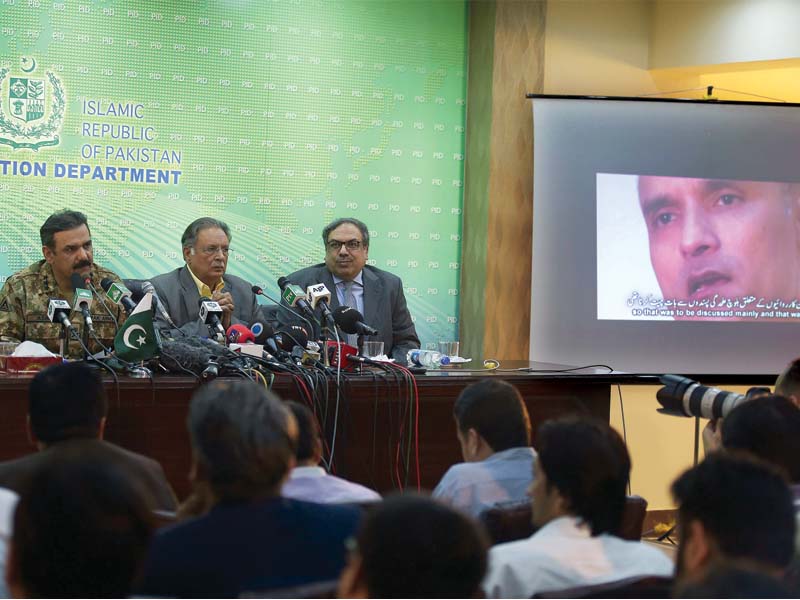 ---
ISLAMABAD:



An Indian spy arrested earlier this month in Balochistan has confessed his country's top intelligence agency is involved in destabilising Pakistan, including by supporting the Baloch separatist insurgency.




The government on Tuesday released a video showing Kulbhushan Yadav, an India navy officer, confessing he had been working for the Research and Analysis Wing (RAW) to carry out subversive activities in Balochistan and Karachi.

Shah urges govt to raise Indian spy arrest at UN




"RAW is involved in some activities related to the Baloch liberation movement within Pakistan and the region around it," Yadav revealed in the six-minute video released at a joint news conference by Information Minister Pervaiz Rashid and Director General Inter-Services Public Relations Lt Gen Asim Saleem Bajwa.

In his opening statement, Yadav said he was a serving officer in the Indian Navy and was due to retire in 2022. India has confirmed Yadav as its national but claimed he had taken early retirement from the navy.

Looking relaxed while recording his confessional statement, the RAW agent said he started intelligence-gathering operations in late 2001 when the Indian parliament was attacked by terrorists. In 2003, he set up a small business in Iran's southeastern port of Chabahar, in an effort to avoid detection. He visited Karachi twice in 2003 and 2004.

Yadav went on to add that he was picked by RAW towards the end of 2013. "Ever since I have been directing various activities in Balochistan and Karachi at the behest of RAW and deteriorating law and order situation in Karachi," he revealed. He reported to Anil Kumar Gupta, the joint secretary RAW.

Pakistan may not give India consular access to RAW officer

Yadav said he was tasked with meeting Baloch separatists for carrying out activities of "criminal nature, leading to the killing or maiming of Pakistani citizens".  "There are finances which are led into the Baloch movement through various contacts or ways and means."

RAW's activities, according to the Indian spy, centered on the ports of Gwadar, Pasni, Jewani and other installations in Balochistan. These activities were aimed at trying to create a "criminal sort of mindset within the Balochistan liberation and lead to instability within Pakistan".

In pursuit of set targets, he was trying to cross over into Pakistan at the Sarvan border from Iran on March 3 – but was arrested by Pakistani authorities on their side of the border.

Yadav said he was visiting Pakistan to meet Baloch separatists to discuss the operations they were planning to conduct in the near future in the province.

But why has he decided to cooperate with the Pakistani authorities? The RAW agent said he realised his 'intelligence operation' had been compromised by his arrest. "So, I decided to end the mess I have landed myself in, and just wanted to subsequently move on and cooperate with the authorities."

Yadav insisted he was making the confession not because of any pressure or under duress. "It is totally out of my own desire to come clean on what I have gone through for the last 14 years," he said.

He added that Pakistani authorities treated him 'honourably' after realising that he was an Indian Navy officer. "Upon mentioning that I am a navy officer, the perception of the Pakistani establishment side changed. They treated me very honourably and gave utmost respect and regards, and they handled me in a way that befits an officer."

India's state-sponsored terrorism proved

Describing the arrest of Yadav as a 'big achievement', Lt Gen Asim Bajwa said the Indian spy's confessional statement proved that India was sponsoring terrorism in Pakistan.

Sitting alongside the information minister, who largely kept quiet, the military spokesperson said it was rare that an intelligence officer was detained in another country. "This is a big coup and the credit goes to our security agencies," he added.

'RAW officer' arrested in Balochistan

Lt Gen Asim Bajwa insisted Yadav was a serving commander-rank officer in the Indian Navy. He served in the naval intelligence before he was transferred to RAW, the military spokesperson said, adding that Pakistan had 'irrefutable evidence' to prove Yadav was a RAW agent.

According to preliminary investigations, the Indian spy visited Boat Basin in Karachi and started a 'scrap business' as a cover-up. Lt Gen Bajwa said Yadav had also converted to Islam and set up a jewellery shop in Chabahar, along with another RAW agent.

At the time of his arrest, Yadav was in possession of Pakistani, American and Iranian banknotes, and maps of Balochistan and other parts of Pakistan. He also shared the 'code-word' he used to communicate with RAW. "Tell them [RAW] your monkey is with us, and they will understand who has been apprehended," Lt Gen Asim Bajwa quoted him as saying.

He said Yadav also confessed to RAW's involvement in funding the Mehran base attack and the assassination of former CID SP Chaudhry Aslam. RAW was also trying to establish a 'sectarian tiger force' in Karachi to create sectarian unrest.

The detained RAW agent said the main purpose of this entire intelligence operation was to revive the separatist insurgency in Balochistan and disrupt the China-Pakistan Economic Corridor (CPEC).

Lt Gen Bajwa said Yadav was being directly handled by Indian National Security Adviser Ajit Doval and the RAW chief – a serious allegation that is likely to invite a strong reaction from New Delhi.

"You cannot find bigger evidence than this (regarding the involvement of RAW in destabilising Pakistan," the military spokesperson said, adding that Islamabad should raise this issue at all forums, including the UN. He also appealed to other countries to cooperate with Pakistan in dealing with this issue.

Pakistan summons Indian envoy over 'RAW officer' nabbed in Balochistan

Regarding any Indian request for consular access to Yadav, Lt Gen Bajwa said it was a complicated matter, and the government would 'cross the bridge when that stage comes'.

Asked about any Iranian role, the military spokesperson clarified that Pakistan has never said that Iran's intelligence agencies were involved in this entire controversy. But Yadav was operating from Chabahar port which is why Pakistan expected Iran not to allow its soil to be used by India for subversive activities in the country.

He said Pakistan has shared details of the RAW agent with the Iranian authorities and hoped Tehran would respond positively. Speaking on the occasion, Information Minister Parvez Rashid dispelled the impression that Prime Minister Nawaz Sharif had not appropriately taken up the issue of Yadav with the Indian government. "We have conveyed our concerns to India through the diplomatic channel. The prime minister knows his responsibility," he added.

Operation in Punjab

Answering a question about the operation in Punjab, Lt Gen Bajwa said the composition of the force was decided based on targets.

The operation will be carried out against terrorists' sleeper cells, their abettors and financers wherever they were irrespective of the area, he added. "The overarching objective is to eradicate terrorism from the country. We will use whatever force that will be required."

Published in The Express Tribune, March 30th,  2016.