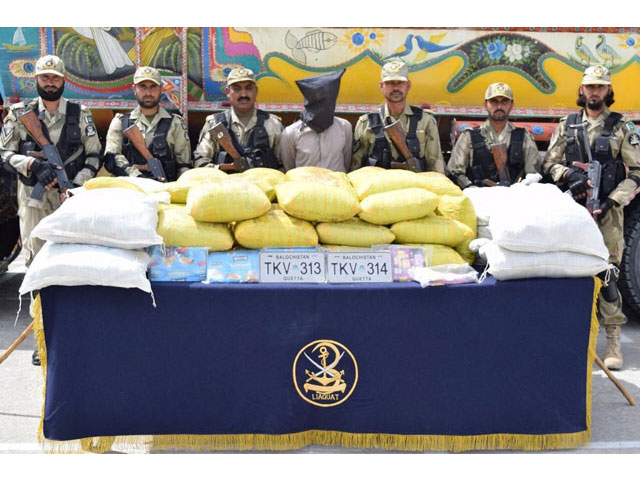 ---
KARACHI: Pakistan Coast Guard (PCG) seized on Tuesday a huge cache of narcotics from Gwadar in intensified efforts to curb the menace of drug trafficking.

According to a press release issued by PCG, the force recovered 278 kilogrammes of hashish and 380 kilogrammes of opium from an oil tanker on Shahjahan road.

It was recovered when the personnel spotted a suspicious oil tanker during a snap-checking in Nalient area and recovered the narcotics from its secret cavities.

Drug bust: ANF seizes over 80kg drugs, seven arrested

The coastguard force also arrested driver of the tanker.

The narcotics were likely to be smuggled to the Middle East, with the approximate value Rs450 million in the international market, the statement added.

According to the PCG, investigations have already been started into the narcotics seizure.

Appreciating the performance, Director General PCG Brig. Ateequr Rehman has announced monetary awards for the officials involved in the operation.

Customs seize: heroin, amphetamine from couple

Last month, PCG seized 1,000kg of hashish from a Land Cruiser vehicle in the vicinity of Pasni airport.

On January 21, Anti-Narcotics Force rounded up seven suspected drug pushers and recovered over 80kg of illicit drugs from different areas of Rawalpindi and Islamabad.
COMMENTS
Comments are moderated and generally will be posted if they are on-topic and not abusive.
For more information, please see our Comments FAQ