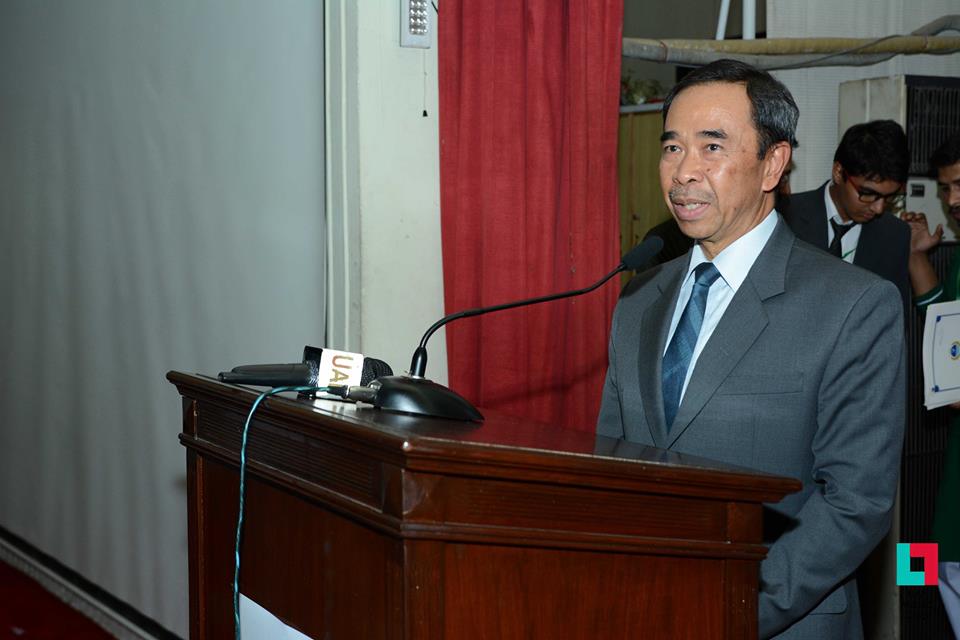 ---
FAISALABAD:



"Pakistan produces quality fruits and the country should tap the potential in the international market for its agricultural produce," Brunei Darussalam High Commissioner Dato Mahmud Saidin said on Monday.




"Pakistan's agri exports to Brunei involve a high cost of transportation," Saidin said at the opening of the fourth Lyallpur Art and Literature Festival at the University of Agriculture Faisalabad (UAF). Vice Chancellor Iqrar Ahmad Khan was also present.

As many as 25 universities are participating in the event being organised under the banner of Senior Tutor's Office. It features qirat, naat and essay competitions, a bilingual declamation, a bait bazi (poetry) contest, a model United Nations (MUN), a folk songs event, a dance contest and drama, documentary and photography competitions.

Saidin the festival would help the students exhibit their talent. He said the relationship between the two countries was being strengthened. He stressed the need for accelerating the efforts aimed at food security.

He said oil and gas were among Brunei's major productions. The country's share in agriculture was very low, he said. "Brunei doesn't have fertile land… we are focusing on the rice crop," the high commissioner said.

He said Pakistani mangoes and apricots were highly sought after. He said that several Pakistani students were studying in Brunei on scholarships.

Vice Chancellor Khan stressed the need for further strengthening academic and agricultural ties between Pakistan and Brunei. "Agriculture is the backbone of our economy. Poverty alleviation is directly linked to the sector." On Tuesday (today), an essay competition will be held at the New Senate Hall at 9am, the bi-lingual declamation final round at Iqbal Auditorium at3pm and a bait bazi contest at the New Senate Hall at 3pm.On March 30, a quiz contest will be held at 9am at Iqbal Auditorium, the MUN will be arranged at 9am and a bait bazi contest will be held at 3pm at Iqbal Auditorium.

On March 31, a sufi songs contest will be held at 9am at Iqbal Auditorium, the MUN at 9am at Video Conference Room, a painting competition at 9am, a folk dance competition at 12pm, a drama competition at 3pm at Iqbal Auditorium and a short film and documentary contest at 3pm at Iqbal Auditorium.

On April 1, drama, documentaries and a thermal photography  contest will begin at 9am at Iqbal Auditorium, the MUN will recommence at Video Conference Room at 9am, a photography contest will be held at New Senate Hall at 2am and the closing ceremony will be held at 5pm.

Published in The Express Tribune, March 29th, 2016.
COMMENTS
Comments are moderated and generally will be posted if they are on-topic and not abusive.
For more information, please see our Comments FAQ