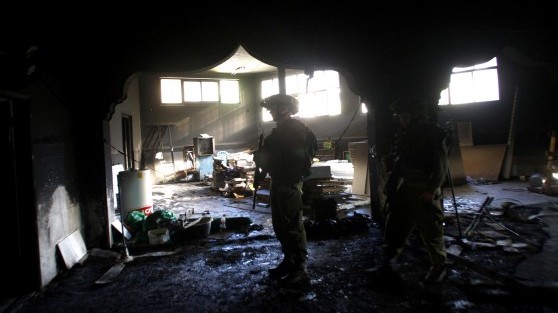 ---
Palestinians accused Jewish settlers of setting fire to a mosque in the occupied West Bank on Tuesday, an incident that coincided with a US envoy's mission to get Middle East peace talks going.

Israeli security officers were at the scene investigating the fire but have not determined its cause. A fire fighting officer said it would take a few hours before initial findings were known.

The mosque in the village of Libban al Sharqia, near the Palestinian city of Nablus, was gutted overnight by fire that also burnt holy books.

There were no witnesses to what Palestinian locals and officials assumed was another attack by Jewish settlers in the Nablus area. Settlers have also been suspected of vandalising two other mosques and a cemetery in the last six months.

Mahmoud al Habbash, the Palestinian minister of religious endowments, dismissed an Israeli suggestion that the blaze could have been started by an electrical fault.

"I say to the Israelis that the settlers are a danger to yourselves and us," he told Reuters while assessing the damage.

An Israeli government minister assumed it was arson and said those responsible would be caught. "I have no shadow of doubt their aim was to ignite fire in the region and this is lamentable," Industry and Trade Minister Binyamin Ben-Eliezer told Israel's army radio.
COMMENTS
Comments are moderated and generally will be posted if they are on-topic and not abusive.
For more information, please see our Comments FAQ