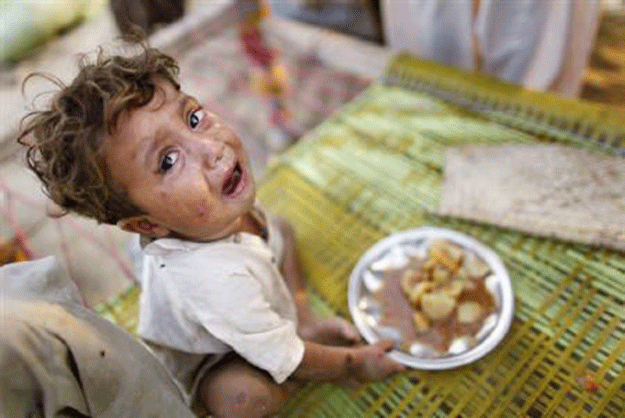 ---
KARACHI: Researcher Haris Gazdar believes that there is not as much agitation on hunger as is seen on electricity issues.

He was speaking at a discussion on hunger and nutrition at the Collective for Social Science Research on Saturday morning. Representative from non-governmental organisations, researchers and social workers shared their insights on the state of malnutrition and its implications and solutions in the country.

Making malnutrition a political agenda poses the biggest challenge to the country. Though right to food is a comprehensive concept, it should not only be restricted to children. Community engagement that focuses on malnutrition can be one of sustainable sources of solution to malnutrition problem. These were some of the many points agreed upon at the discussion.

Scaling-up-Nutrition movement: 'Malnutrition in Pakistan third worst in the world'

Responding to Gazdar's proposition that not much agitation is seen on hunger issues, Dr Kausar S Khan of the Aga Khan University said that if malnutrition becomes the entry point for focusing on all other problems, the issue can somewhat be approachable. "Even those who are illiterate can analyse their own reality," she said, stressing the importance of health reports on the district level.

Gazdar's synthesis report, titled 'Life in a Time of Food Price Volatility', quotes The National Nutrition Survey of 2011. The survey states that about two-fifths of the households in Pakistan were food secure while 10 per cent experienced severe hunger and 20 per cent faced moderate hunger. The report also goes on to share the qualitative study of dietary diversity that shows little consumption of foods other than the main staple, wheat. "The use of chutney, made with salt and raw chillies, and sweetened black tea is common in rural and urban sites as accompaniments," states the report. "Milk, if available, might be added to the tea."

MICS 2014: Minor improvements seen in nutrition, child health

A finding along the same lines was voiced by Adam Malik of Women and Children/Infant Improved Nutrition in Sindh, who shared his experiences of the 2009 floods of Jaffarabad and adjoining areas. "We were told to reduce the amount of food in the relief package and introduce more tea to it," he said, adding that for workers, a roti and a cup of tea is the way to start their long working hours. Cash transfer programmes with the likes of Benazir Income Support Programme also came under discussion. The 'Life in a Time of Food Price Volatility report states that the respondents of the survey eat better on days when they receive their BISP payment but the programme is unable to help combat hungry days at other times.

The report further goes on to say that in rural areas, hunger, for the most part, occurs in lean season or when harvested grain runs out. It adds that while urban households are 'somewhat better off than their rural counterparts in terms of work opportunities, the poorest here also experience hunger at least on some days'. "In fact, their risk of hunger is spread more evenly across the year with hungry days occurring due to lack of cash on a day-to-day basis," it states.

On the same note, Dr Khan said that malnutrition being a hidden hunger problem is based on the underlying assumption that better employment opportunities and education could be the solution to the problem. "We found a kid in Gilgit who was severely malnourished," she said. "This was happening even when there was a person around who had done his [Master's in Public Health] MPH."

Published in The Express Tribune, March 27th, 2016.