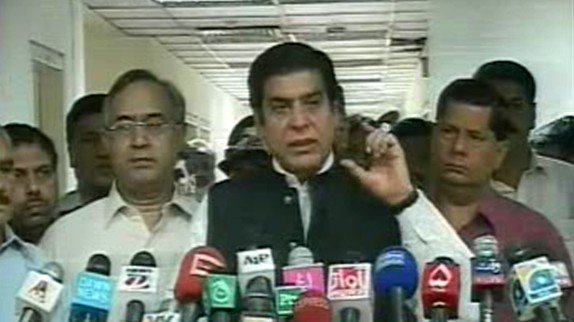 ---
ISLAMABAD: Pakistan and Iran on Monday agreed to expedite the import of 1000 MW power project and decided to hold expert level meetings of both countries every two months to review the progress so that early import of electricity by Pakistan from Iran project could be ensured.

The decisions were taken in a meeting held here in the Ministry of Water and Power between Minister for Water and Power, Raja Pervez Ashraf and Iranian Deputy Economic Minister of Ministryof Foreign Affairs, Seyed Amir Mansoor Baroghei-i. The Iranian Ambassador and Secretary Water and Power and MD Pepco were also present.

The meeting was briefed on the current status of import of 1000 MW power project and informed that the Pakistan side has completed its feasibility study while the Iranian Company Mushanir has yet tocomplete its report. After completion of feasibility studies the work will start on the project and about 700 KM transmission line will be constructed at an estimated cost of 600 million dollars at least within 5 years.

The power will be for the national grid. It was also said that work on 100 MW import project for Gawadar will be completed in June 2012. The meeting observed that negotiations  for revision of tariff for  import of 39 MW power for Gawadar are in progress. Pakistan is importing 39 MW from Iran since 2003 and now the tariffis are being revised.

The minister for Water and Power, Raja Pervez Ashraf while welcoming the delegation said that Pakistan attaches high priority to its relations with Iran, which has always supported and assisted Pakistan.

He said that the visit of the Deputy Minister will further strengthen bilateral relations between the two countries. He said Pakistan is currently facing an energy deficit problem and taking all possible measures to overcome the crisis. He said that Pakistan is eager to complete the import of 1000 MW power project well before time.

He accepted the invitation of the Iranian Minister and said that he will go to Iran soon to further expedite the project. He also asked the Iranian delegation to use their good offices for early completion of the feasibility report by the Iranian company.

The Iranian Minister thanked Ashraf and said that Pakistan is willing to buy electricity from Iran to meet its future requirements and Iran  is willing to help Pakistan in this crisis. He said that although import of 1000 MW project will take at least 5 years as a long distance high voltage transmission line will have to be constructed. He stressed the need to find a  joint possible solution to complete this important project within the shortest timeframe.

He also dispelled the impression that Iran will export power to Pakistan on cheaper rates. He assured the Minister that the Iranian company will be pushed to complete the feasibility report of 1000 MW at the earliest. He also said the meeting will further enhance bilateral cooperation between the two brotherly countries and will open an era of cooperation in the energy field.
COMMENTS
Comments are moderated and generally will be posted if they are on-topic and not abusive.
For more information, please see our Comments FAQ