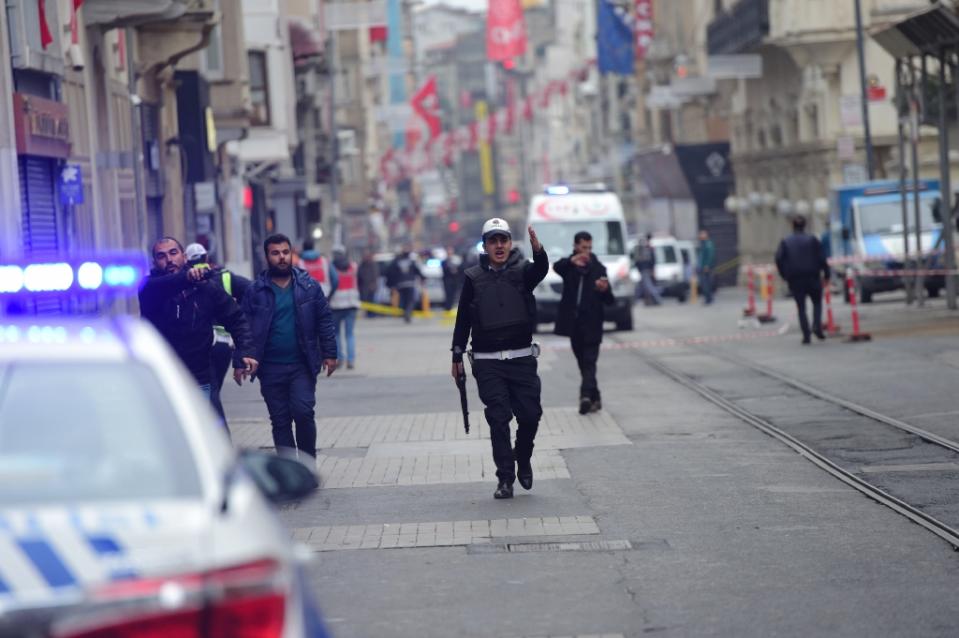 ---
ANKARA/ ISTANBUL: A suicide bomber killed himself and four others in a central Istanbul shopping and tourism district on Saturday, wounding at least 36 people in the fourth such attack in Turkey this year.

The blast sent panicked shoppers scurrying into side alleys off Istiklal Street, a long pedestrian avenue lined with international stores and foreign consulates.

There was no immediate claim of responsibility for the bombing, which two senior officials said could have been carried out by the Kurdistan Workers Party (PKK) or by an Islamic State (IS) militant. Both groups have targeted Turkey in recent months.

One of the officials said the bomber had planned to hit a more crowded location but was deterred by the police presence. "The attacker detonated the bomb before reaching the target point because they were scared of the police," the official said, declining to be named.

Another official said investigations were focusing on three possible suspects, all of them male and two of them from the city of Gaziantep near the Syrian border. There was no further confirmation of this.

Health Minister Mehmet Muezzinoglu confirmed 36 people had been wounded, seven of those were in serious condition and at least 12 of them were foreigners. Three Israeli citizens may be among those killed and 11 were injured, an Israeli foreign ministry spokesman said. Turkish officials said one Iranian and one Israeli were among the dead.

The latest attack brought widespread condemnation. Iranian Foreign Minister Mohammad Javad Zarif, on an official visit to Istanbul, said it showed "the ugly face of terrorism", while France condemned it as "despicable and cowardly".

Turkey's Peoples' Democratic Party (HDP), a Kurdish-rooted opposition party, condemned the bombing as well.

Published in The Express Tribune, March 20th, 2016.
COMMENTS
Comments are moderated and generally will be posted if they are on-topic and not abusive.
For more information, please see our Comments FAQ