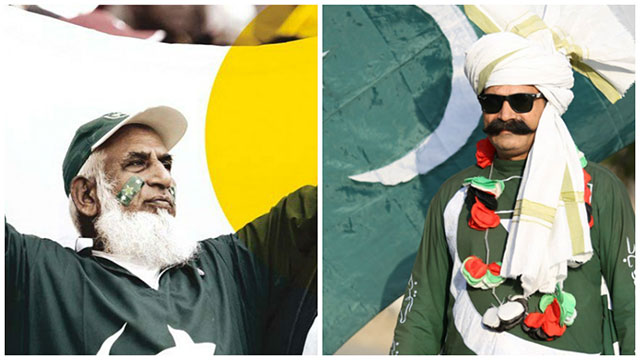 ---
As Pakistan take on arch-rivals India in a high voltage World Twenty20 game on Saturday in Kolkata, they will miss two of their key attractions: cricket 'uncles' Abdul Jalil and Muhammad Zaman.

The two die-hard cricket fans, prominent because of their facial hair, dress and decades spent hitting the stands, will miss out on the World Twenty20 championship in India due to visa issues.

Both have supported their team in stadiums across the world wearing the traditional green shalwar kameez and waving the Pakistani flag.

The great rivalry resumes

Abdul Jalil, 67, famously dubbed 'Chacha Cricket', is recognised by his long white beard, and has been sponsored by the Pakistan Cricket Board (PCB) to follow the Pakistan team around the world since 1998, receiving a monthly stipend of Rs26,000 rupees.

But this year, he failed to get PCB support for a visa which would have allowed him to travel with the team to India.

"This will be the first time since 1998 that I will miss a Pakistan-India cricket match in a stadium. I feel sad about it," he told AFP from Pakistan's port city Karachi, where he is watching the World Twenty20 matches on a mega screen installed by cricket lovers.

"The board stopped sponsoring my travel five years back and they also suspended my monthly stipend three months before," he said.

India, Pakistan poised for heavyweight World T20 clash

"Despite that, I had been managing to tour with the team on my own, but this time I failed to even get official support to obtain a visa.

"I want to go there and generate support for the Pakistani team among the crowds, to wave my green Pakistani flag in India. I cheer up the crowds and lead them by chanting slogans in my trademark style. I think fans will miss it as I am myself missing it," he said.

'Love for my cricket team'

Forty-eight year old Muhammad Zaman, nicknamed 'Chacha T20' (or Uncle T20) and famous for his long black moustache and big white turban, also failed to make it into the stands this time because he too failed to get visa.

"This is the first time since the mid-1980s that I will miss the watching the game on the ground because the Pakistan Cricket Board did not support me (for a visa)," he told AFP from his small village in Hafizabad district of Punjab province.

Zaman said he visited a company that processes Indian visa applications and was told to buy tickets online before applying for a visa.

"It was not possible for me because I am not computer literate, I wrote to the PCB chairman but could not get help."

Zaman left his job as a driver in the United Arab Emirates in 2012 after his company refused him leave to watch the Asia Cup.

"I left the job and went to the stadium to watch the matches. Love for my country and love for my cricket team is in my blood," he said.

Pakistani cricketers welcome in India, says BJP leader

"I am missing this opportunity to raise my country's flag in India. I'm not asking for any money or tickets but just seeking PCB support for my visa."

India and Pakistan will grind to a halt Saturday as hundreds of millions of cricket fans gather to watch the World Twenty20 match between the two nations in Kolkata's Eden Gardens stadium.

The cricket-mad neighbours, who have gone to war three times since independence, share one of the world's fiercest sporting rivalries and their rare showdowns on the pitch can bring both to a standstill.

Tensions have prevented the two sides from playing each other in Tests for more than a decade, and the match is only happening because the T20 is an International Cricket Council (ICC) tournament.

COMMENTS
Comments are moderated and generally will be posted if they are on-topic and not abusive.
For more information, please see our Comments FAQ