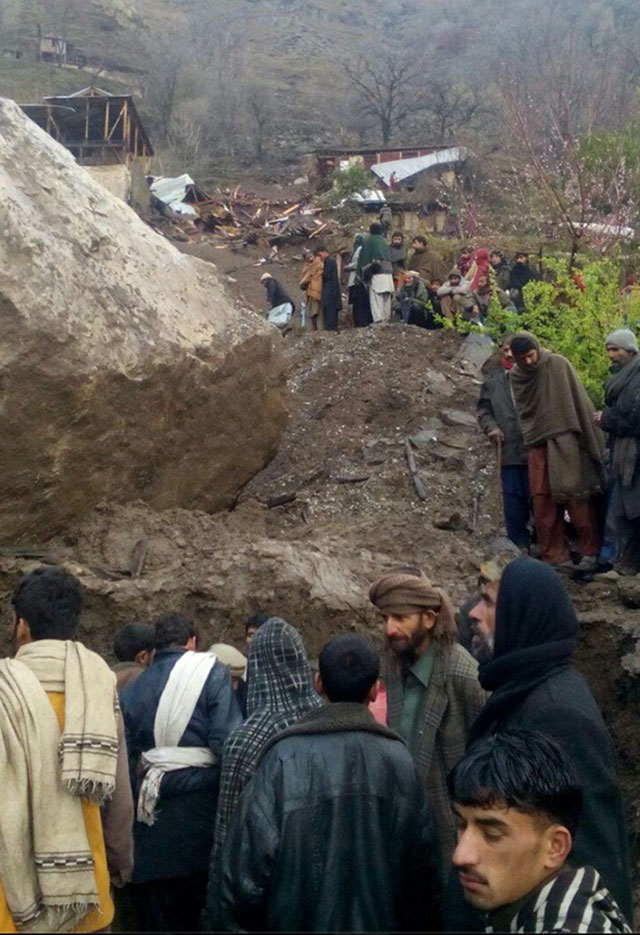 ---
MUZAFFARABAD: At least 12 people were killed and three others injured in various parts of Azad Jammu and Kashmir (AJK) due to torrential rains which led to landslides, police said on Saturday.

According to police officials, a rockfall hit six houses in Sarli Sacha Sharki village, about 40 kilometers away from the capital city of AJK.

12 more deaths in K-P, FATA as rain continues

Further, a boulder flattened a resident Ghulam Hussain's house, killing him, his wife, two sons and a daughter.

Residents in the area launched a rescue and relief operation with the Pakistan Army amid heavy downpour in the village. One of Hussain's children was recovered alive. No other members of the family were able to survive.

In Bagh city, Khalid Hussain and his wife Shaheena were killed in the Ochar area when their house was destroyed by a mud slide in the early hours of Saturday. One of Khalid's daughters was rescued alive from the rubble, while three of her other sisters managed to escape by rushing out of the house as the mudslide hit.

Seven children among 13 killed in Karachi's landslide

Further, during the heavy downpour a house in Pala Chaudhrian village of Haveli collapsed, killing a woman and her six-month-old daughter. Her other daughter received serious injuries.

A woman and her daughter were killed in Rawalkot's Chafar village as their house caved in due to heavy rain. The woman was identified as Nasreen Akhter, wife of Hameed Minhas.

A 13-year-old girl was killed after being struck by lightening in Kotli. According to police reports, three girls were struck by lightening in Patyara village. Of the three Layyba died on the spot.