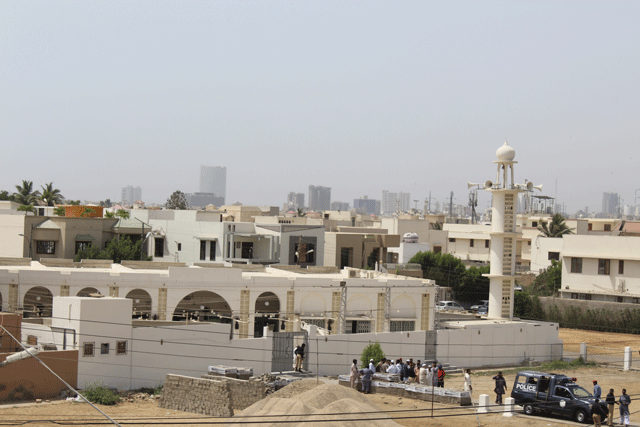 ---
KARACHI: At least four people were injured after a clash erupted following a dispute between two religious groups claiming possession of a mosque in Phase VII of Karachi's DHA late Thursday night.



"The clash between two groups occurred when one party forcibly infiltrated Umer Bin Abdul Aziz Masjid in DHA Phase VII, claiming to have taken over the mosque's administration," officials of the Gizri police told The Express Tribune on Friday.

Jirga unable to settle dispute over dismissal of prayer leader




The injured were shifted to Jinnah Post Graduate Medical Centre while personnel of law enforcement agencies, including police and Rangers, were summoned to the site.

Meanwhile, sources said handing over of the mosque's possession to a new group last week triggered the clash.

Turf war: Two injured in clash over mosque construction in Gujranwala


Two opposing groups clash to take control of a mosque in DHA Phase 7 #Khi, heavy police enforcements deployed to avert violence #Khialerts

— Mansoor Ali Khan (@_Mansoor_Ali) March 17, 2016


The mosque, which was earlier managed by the Ahle Hadis sect, was cordoned by the police with neither party being allowed to take control of it.

Residents said an ad hoc committee had been set up to manage the affairs of the mosque.

DHA Phase VII Welfare Association confirmed the development, saying a DHA-approved imam will lead prayers in the mosque for now.