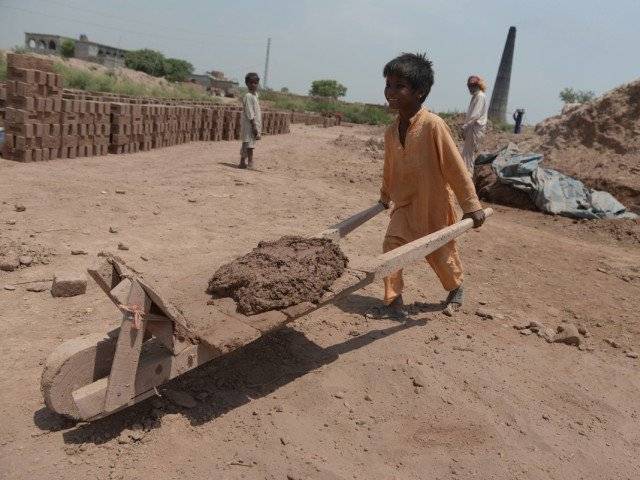 ---
LAHORE:



Kiln owners support the provincial government's Prohibition of Child Labour at Brick Kilns Ordinance 2016 save for a few reservations, Pakistan Brick Kilns Owners' Association (PBKOA) central president Shoaib Khan Niazi told The Express Tribune on Wednesday.




He said the government was not paying attention to the owners' demands because it was busy dealing with the European Union.

On child labour at kilns, Niazi said parents' should be responsible for ending it. "It's not our problem. We don't want children making bricks, they don't do a good job anyway. The bricks they make are of inferior quality," he said.

Niazi said many workers' lived at the kiln premises with their families. "They can get help from their children in meeting production targets assigned to them. How does the government expect us to prevent that?" he asked.

Niazi said workers were paid for the bricks produced by them.

He said hundreds of kiln owners across the province had been arrested on false charges.

On payment of minimum wage, he said the government had set the wage without doing its homework. He said it was not possible for owners across the province to pay a uniform minimum wage. "When the price of bricks in Rajanpur and Lahore is different, why should kiln owners in the two areas pay the same wage to their workers?" he asked. "The owner in Rajanpur will end up suffering heavy losses," he said.

He said the minimum wage in the province was higher than in all other provinces. "Kiln owners in Sindh are required to pay just Rs560 for 1,000 bricks whereas we have been told to pay Rs962 per 1,000 bricks. This unfair to us," he said.

The new law requires kiln owners to get their workers registered with the Social Security Department. Niazi objected to the requirement. "It makes sense for factory workers to be registered for social security. The wages they're paid are far less than the value of the commodities they produce using the installed machinery," he said. "We employ hundreds of workers but they're not required to work with machinery. The value of commodities produced by kiln workers is far less than that of commodities produced by factory workers," he said.

Niazi suggested that if the government wanted kiln workers to send their children to schools it should increase the stipend paid for the purpose from Rs1,000 to Rs5,000. He said the stipend announced by the government would not make up for the wages lost by workers by removing their children from work.

All Pakistan Brick Kiln Workers' Association (APBKWA) chairman Mehmood Butt agreed that payment of Rs5,000 per child would be more realistic.

However, he dismissed other demands of the owners' associations. "Registration for social security is every worker's right," he said. He said cost of living and size of bricks produced were better criteria for determining a minimum wage. A uniform minimum wage was consistent with these requirements, he said.

Butt said the APBKWA had announced a protest demonstration for March 18 to press for its demand that the level of advance payments should be agreed upon in consultation with representatives of workers.

On Tuesday, a delegation of kiln owners had met with Labour and Human Resources Minister Raja Ashfaq Sarwar. Ahmad Raza Sarwar, the new secretary for the Labour and Human Resource Department, was also present.

A press statement issued after the meeting said that Sarwar had told the owners that the government was aware of their grievances over the child labour ordinance.

Published in The Express Tribune, March 18th, 2016.