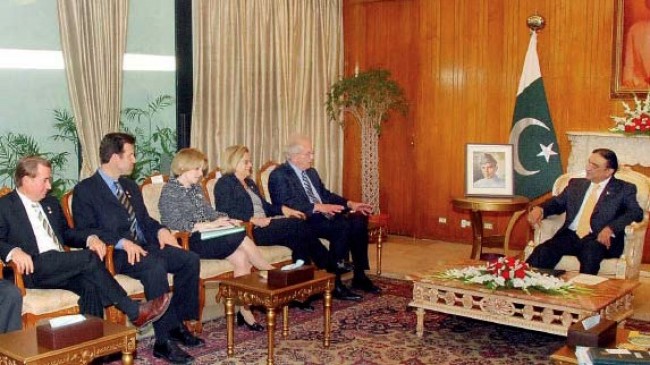 ---
ISLAMABAD: President Asif Ali Zardari on Monday stressed that Reconstruction Opportunity Zones (ROZs) legislation was needed in order to enable goods manufactured in special Pakistani zones to find easy access to world markets.

The president said this during a meeting with a US Congressional delegation, headed by Representative Howard L Berman, Chairman House Foreign Affairs Committee (HFAC) at the Presidency. US Ambassador Anne W Patterson was also present in the meeting. Zardari said ROZs would be an effective tool that would give people hope by creating jobs and help reduce the trust deficit plaguing US-Pakistan relations. The president said that during his recent tour to Khyber- Pakhtunkhwa people asked him about the progress made on ROZs.

He asked the visiting delegation to use their influence to expedite legislation on ROZs. Zardari said he hoped that that the process of Coalition Support Fund reimbursement would also be expedited, adding that Pakistan had the biggest stake in regional peace and stability and every effort made in this regard was welcome.

The president said that against the backdrop of Pakistan's war against militancy, any assistance provided by friends is welcome. "We need assistance not only to rescue our war-ravaged economy but also to create vistas of opportunities for our people in order to win the battle of hearts and minds," he remarked. He said Pakistan's priority, however, remained trade rather than aid and added that the country wanted to strengthen relations based on long-term mutual interests and shared goals.

He said Pakistan understood the need for transparency and accountability not only towards US assistance but also its domestic finances, so that the dividends of democracy could reach ordinary people. The US delegation assured the president that the US would continue to support Pakistan in every possible way.