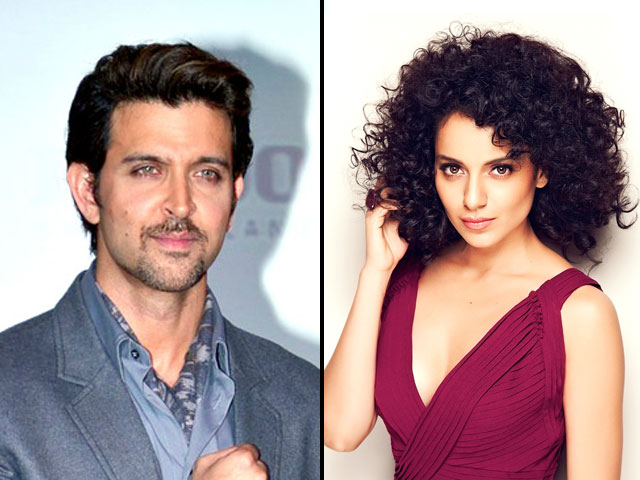 ---
Bollywood is always full of surprises and the Hrithik-Kangana episode is no different.

Just days after the two stars issued each other legal notices it has now been revealed by Mumbai Mirror that Hrithik Roshan had proposed to Queen actor Kangana Ranaut, back in 2014.

Speaking to a close friend of Kangana's, MM reported that in January 2014, the Bang Bang actor had proposed to Kangana in Paris, just a month after making his split with now ex-wife Sussanne Roshan public.

Kangana and Hrithik's relationship had blossomed after working together in Kites (2009) when his marriage and relationship with Mexican actress Barbara Mori were in the pits. Hrithik pursued Kangana for Krrish 3, and from then on the two shared a clandestine relationship.




Kangana fires back at Hrithik, says he 'slyly' pursued her

In December 2013, when Kangana was in Switzerland, Hrithik called her to propose to her. "She was on top of the world as he also told her he wanted to marry her after the divorce," MM quoted Kangana's friend as having said.

However, their relationship took a U-turn after he started shooting for Bang Bang with rumours circulating that he was having an affair with Katrina Kaif. Hrithik soon called off the engagement stating Kangana "misunderstood his intentions."

"Soon after Kangana won the National Award for Queen in March 2014, he called, begging her to forgive him and take him back," said the friend.

Their off-again on-again relationship finally came to an abrupt halt in May 2014 at Karan Johar's party. "They hadn't spoken for a couple of weeks. When they met at KJo's party, Kangana put her hand on Hrithik's arm. He reacted angrily and asked her how could she have set up a date with another actor for the following Wednesday," the friend added.

"She wanted to end it. But Hrithik was not ready to let her go. He made things ugly. We never imagined that he would stoop so low to tarnish her reputation" the friend said.

As truths of the couple's relationship started surfacing, the feud between the two also took a nasty turn as they filed legal notices against each other, reports Mumbai Mirror.

In the legal notice Hrithik has filed, the Bollywood star has reportedly accused Kangana of online stalking, saying she sent him around 50 emails per day, some explicit in nature.

In a counter-attack, Kangana claimed that he hacked into her email account to delete emails the two shared, so as to avoid complications in his divorce proceedings with Sussanne Khan.




Hrithik then made an ugly attack and claimed that Kangana suffers from Asperger's syndrome which he says, makes her imagine things.

The actor has been criticized heavily by readers for his careless use of language, as many have pointed out that Asperger's syndrome does not cause hallucinations and does not affect one's imagination. It is instead an Autism spectrum disorder.

The notice also suggests that Kangana seemed to have been communicating with an impostor, thinking he was the real Hrithik. It further states that Hrithik realised this when Kangana, at a party thrown by Karan Johar in May 2014, thanked him for appreciating her performance in Queen. When he told her he had not seen the movie, she gave him the email address on which she had been communicating with him.

That's when Hrithik claims he gave her his real email address. And that's when, he alleges, she started sending him 50 emails a day.




I am a total badass, not a sati-savitri: Kangana Ranaut

Kangana argued that the email address was, in fact, Hrithik's. Since rumours were spreading about them before his divorce with Sussane, She claims he tried to hide everything, by hacking her email to get rid of the incriminating exchanges.

Concerning the 50 emails a day accusation, Kangana's notice reads "Your client (Hrithik) has claimed to having received 50 emails a day from the day Kangana got to know of the correct email ID till the date of sending the notice. This totals to 601 days and therefore there should have been 30,000 mails as opposed to 1,439 mails claimed in the notice. This fact further proves the exaggeration and false claims made by your client."




Twitter can't stop talking about SRK's resemblance with Kangana Ranaut

To Hrithik's threat to reveal his communications with her, the notice says: "If he circulates her emails, images and/or other material which your client willingly received in good faith from my client then upon such circumstances it shall be rightfully deemed that your client is willfully seeking to not only defame her and issue unwarranted threats. These actions shall be taken "extremely seriously." She will then have no option but to file criminal proceedings against your client, at his risk, costs and consequences."

Kangana's notice ends with an ultimatum - "withdraw your notice within seven days of receipt of the reply."


COMMENTS (5)
Comments are moderated and generally will be posted if they are on-topic and not abusive.
For more information, please see our Comments FAQ