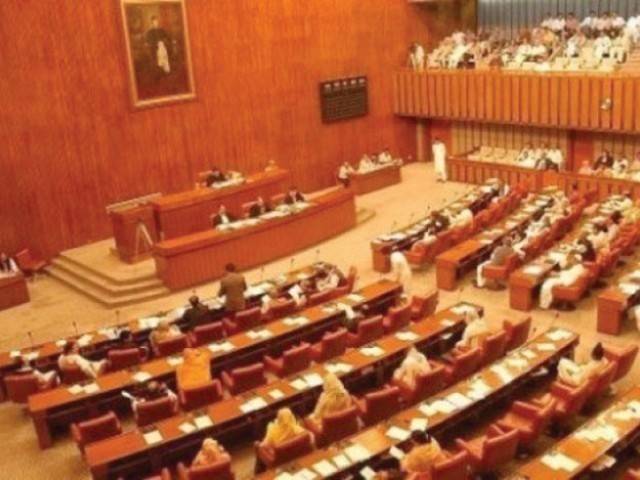 ---
ISLAMABAD:



The Senate Standing Committee on Rules and Procedures witnessed an awkward situation on Tuesday when not a single member turned up to discuss a proposal moved by the cabinet division secretary, infuriating the senators.




Over a dozen senators recently criticised the bureaucracy for breaching parliament's privilege. The agenda item was referred to the committee after a 96-minute debate, terming the bureaucrats' attitude a 'breach of parliament'.

The controversy erupted on March 4 when the bureaucracy asked the Senate to 'reconsider' its recommendations on reconstituting policy and administrative boards to ensure equal representation of the provinces.

The senators termed the response dictation to parliament and endorsed a proposal to have the privileges committee investigate it. Senate Chairman Raza Rabbani then issued notices to the secretary, joint secretary of the cabinet and asked the committee on privileges to thoroughly investigate the matter.

However, when committee Chairman Dr Jehanzaib Jamaldini took up the matter on Tuesday not a single member was present. The meeting was resultantly cancelled. The members were supposed to meet at 2:30am in the Senate's committee room. The panel chairman and parliamentary leader waited for 30 minutes but no one showed up.

All the members had been informed about the meeting but they did not respond. According to the committee's secretary, only Senator Nighat Mirza of the MQM informed the panel she could not attend the meeting because of an illness. No other member bothered to inform about their unavailability.

The members who were supposed to attend the meeting included senators Aitzaz Ahsan, Farooq H Naek, Babar Awan, Saeed Ghani, Saud Majeed, Zahida Khan, Hilalur Rehman, Nighat Mirza, Muzzaffar Hussain and Attaur Rehman.

The committee secretary told the chairman at least three members should be present to conduct the meeting.

Interestingly, parliamentary leaders of  different parties, including Senator Mushahidullah Khan of the ruling PML-N, Senator Talha Mehmood of the JUI-F,  Senator Tahir Hussain Mashhadi of the MQM,  Senator Noman Wazir Khattak of the PTI and Mir Hasil Khan Bizenjo of the NP were present.

Earlier, the Senate chairman directed the parliamentary leaders to attend the meeting.

On Tuesday, Senator Talha insisted the committee chairman start an informal meeting. But the chairman said the rules did not allow such a meeting.

Published in The Express Tribune, March 16th, 2016.
COMMENTS
Comments are moderated and generally will be posted if they are on-topic and not abusive.
For more information, please see our Comments FAQ