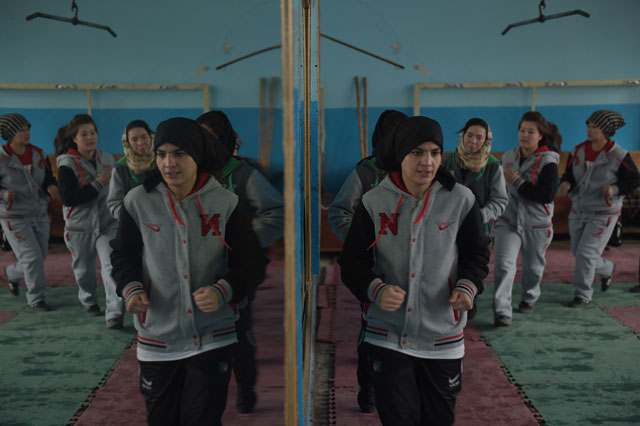 ---
KABUL: Nineteen-year-old Afghan boxer Sadaf Rahimi slams her punching bag deep in the bowels of Kabul's Ghazi stadium, dealing blows to gender stereotyping and doing her part to to exorcise history: it was on these very grounds that the Taliban carried out public executions.

Sadaf, whose shy gaze seems at odds with her muscular 60kg (130lb) frame, pulls on her gloves. A liberating spasm accompanies each blow that crushes the leather mitts of Agha Gul Alamyar, one of her trainers.

Teacher who educated Afghan refugee girls wins UN prize

Sadaf is a brilliant boxer. But she is also an exception in this conservative Muslim country where women participating in sport remains a taboo.




Her black pirate bandana serves not just to hold her hair in place, but to cover it. "I also wear a scarf in my everyday life because we live in a conservative country," she says.

The Taliban's regime, known for its brutal treatment of women, was toppled in 2001 by a US-led military alliance. Since then, women's rights have improved, but a bitter patriarchal aftertaste remains for many Afghan women pressured to stay at home to cook and raise children.

At all of 19 years of age -- seven of which she has spent in the ring -- Sadaf sees a moral obligation "to prove that men and women can be equal. Girls are not forced to stay at home".

Born to a middle-class family from the Tajik ethnic group, Sadaf had to first make the case for boxing -- which she discovered by watching Mike Tyson and Laila Ali on TV -- to those closest to her.

"At first my family was opposed to me boxing. They were saying: 'Why is a girl boxing? She should stay home, do the chores and cook.' My aunt is still against it," recalls the young woman, who is also pursuing a degree in economics.

Achievement: Afghan teacher awarded for changing refugee girls' destiny

She is taking a stand on misogyny and against the darkest hours of Afghan history, by training inside Ghazi stadium which the Taliban used for their public executions during their 1996 to 2001 regime.

One of these executions was filmed in secret in 1999. The images show a woman, Zarmina, being executed by Kalashnikov fire for having killed her violent husband.




"It's a pleasure to train her," says Agha Gul Alamyar, Sadaf's trainer.

Like other young women, Sadaf has to contend with poor equipment and basic infrastructure. The mats are threadbare and the gloves and punching bags are old and worn out.

"We lack everything, gloves, boots. There is no encouragement for the girls," he says. The federation currently counts only 20 women in its ranks.

In an effort to boost the sport among women, Sadaf wants to set up her own club and become a trainer. But first she must mount the podium in international competitions, a distant dream.

She has already brought home three bronze medals in regional competitions, but isn't yet up to Olympic standard -- the sport's Holy Grail.

Obama recognises historic Muslim US Olympian

In 2012, Sadaf lied in order to accept an invitation by the Olympics organiser. But the International Boxing Association eventually did not allow her to leave for London, fearing her better trained opponents could seriously injure her.

And this year, she won't be going to Rio. This time around the reasons are more prosaic -- her defeat in the South Asian Games in India in mid February means she won't be Olympics bound.

"I am disappointed," she said. "In India I was completely alone. No trainer came with me, I had no support at all.
COMMENTS
Comments are moderated and generally will be posted if they are on-topic and not abusive.
For more information, please see our Comments FAQ