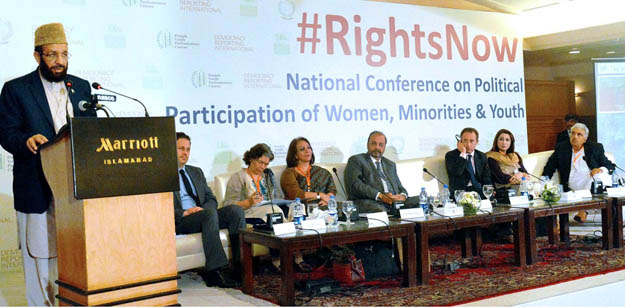 ---
ISLAMABAD:



Academics, rights activists and politicians have stressed the need for women empowerment through education to enhance their role in the political arena.




They were speaking at the opening day of a two-day conference on the participation of women, minorities and youth in politics which began at a local hotel on Monday.




Academics and Awami Workers Party leader Dr Farzana Bari said that women contribute to society and economy more than men. "Women play a productive and a community management role," she said.

"Participation of women in politics is a global issue," she said.

In order to address gender deficit in politics, the notion of division of labour needed to be addressed, Bari, who is the chairperson of Gender Studies Department of Quaid-i-Azam University said.

Minister for Religious Affairs and Interfaith Harmony Sardar Muhammad Yousaf said that religion is often misinterpreted as a barrier between women and education.

"Nowhere does our religion stop women from getting the education.

In fact, Islam makes it compulsory for both man and woman to gain an education.

This is not promoted and our weakness in educating women is generally associated with religion," he lamented.

Provincial Commission on the Status of Women, Khyber-Pakhtunkhwa, Chairperson Neelam Khan Toru said: "There may be discrimination but we are progressing in the political arena, in particular, and in public spaces, in general," she said.

Women cannot be empowered without education and economic empowerment, for which continued support from government is needed, Toru said.




Speaking about flaws in justice system, Nasreen Azhar of the Human Rights Commission of Pakistan said "the system of imprisonment is based on retribution and not on rehabilitation."

Azhar stressed the need for strengthening democratic institutions and implementation of law.

Published in The Express Tribune, March 15th, 2016.