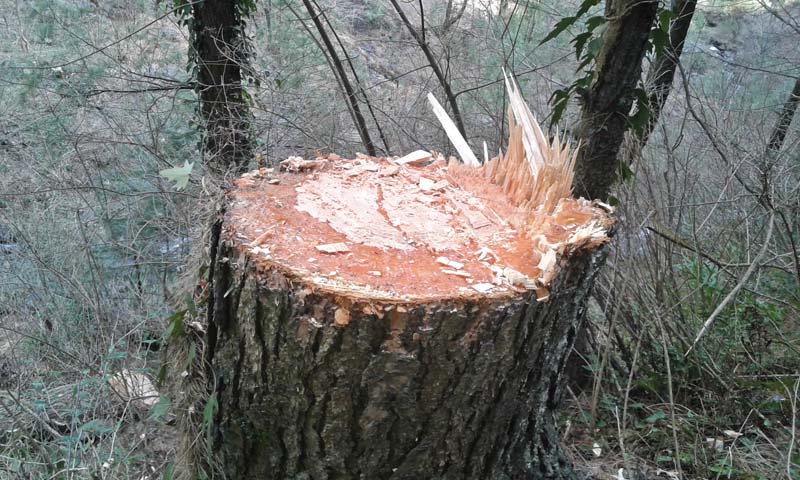 ---
ABBOTABAD:



The Pakistan Tehreek-e-Insaf-led government promised the Billion Tree Tsunami project will engulf K-P in its wake, but villagers in Galiyat remain sceptical as tree felling continues unabated.




Locals say illegal deforestation remains unchecked and this has been confirmed during a recent media visit to the area.

Apart from other parts of Hazara, including Torghar, Kohistan, Mansehra, Abbottabad and Khanpur, where tree felling is reported intermittently, the timber mafia has chosen one of the most picturesque tourist spots, Miranjani, to conduct its illegal trade.

Residents of neighbouring villages of Miranjani including Upper Kutili, Sakhar and Tuppa, tell the media lumberjacks are allegedly enjoying the support of forest officials and police. They say these axemen have wreaked havoc with the natural resources of the popular picnic point and left the area devoid of its natural beauty – its trees.

"In this continued exercise, organised gangs of influential timber smugglers violate the law, cut the trees and turn them into logs before transporting them to safer places via mules. They use portable sawing machines," says one villager, who refuses to disclose the names of timber smugglers. He adds forest officials and police are hand in glove, pointing out the culprits would have been easily apprehended if the case was any different.




"Catching them is not a big deal if they [forest officials and police] are committed to protecting the forest which is the property of the government." The local claims to have witnessed as many as 200 wooden logs transported over a single night.

Pointing towards logs dumped on the side of the forest area in villages leading hikers up to Miranjani top, another villager says hundreds of feet of illegally- acquired timber is transported out daily. He chooses to keep his identity secret as he fears for his family's safety.

The villager says at the rate these "timber terrorists" are continuing, Miranjani top will be devoid of all its beauty.

Galiyat Division District Forest Officer Sardar Saleem was not available at his office for comments, but one of his subordinates denies any knowledge of illegal tree felling in Miranjani. He adds he will bring the matter to his seniors' notice.

In June 2013, the provincial govt cancelled licences of all sawmills in the province to curb tree felling. Forest authorities, with help of the police, seized dozens of sawmills from different parts of Hazara.

The PTI government claims the area is also being monitored through satellite.

Apart from scrub forest, the hill ranges of Hazara such as Kohistan, Torghar, Mansehra, Thandiyani, Nathiagali, Satora and Khanpur are filled with species of trees like deodar, pine, fir, spruce, acer, fircus and walnut.

Published in The Express Tribune, March 15th, 2016.
COMMENTS
Comments are moderated and generally will be posted if they are on-topic and not abusive.
For more information, please see our Comments FAQ