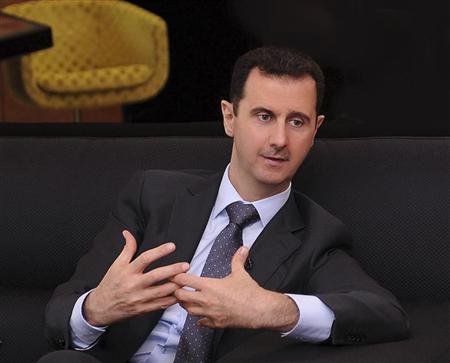 ---
GENEVA: Talks to end Syria's civil war opened in Geneva Monday, but hopes for a breakthrough remained remote with the sides locked in a bitter dispute over the future of President Bashar al-Assad.

The negotiations, which began a day before the fifth anniversary of the outbreak of the conflict, are the latest effort to end violence that has killed more than 270,000 people and displaced millions.

As the delegations arrived in Geneva over the weekend, Damascus warned that any discussion about removing Assad would be a "red line".

Top diplomats from Washington and Paris immediately condemned the comment from Syrian Foreign Minister Walid Muallem as divisive and provocative.

Speaking ahead of his first official meeting with regime negotiators, UN envoy Staffan de Mistura declined to respond to Muallem's remarks, but said agreeing on a new Syrian government was the main obstacle to forging a lasting peace. The talks quickly needed to focus on "the real issues," he told reporters on Monday.

"What is the real issue? The mother of all issues (is) political transition."

A lot has changed since the last round of indirect talks collapsed in February, particularly for many of Syria's war-ravaged people who have been deprived of regular access to life-saving aid.

A temporary ceasefire introduced on February 27 has largely held, despite accusations of violations from both sides, allowing aid to reach some 150,000 people living under siege. The truce, the first since the conflict began, gave cause for cautious encouragement, but experts warn that negotiations will still struggle to achieve a durable peace on the fractured battlefields where multiple groups are competing for dominance.

Syria's opposition says Assad must go, dead or alive

Assad's fate and whether elections will be held within 18 months remain huge hurdles.

Analysts have said the negotiations were largely a forum for international powers involved in the conflict, and that the strategic interests of the US and regime-ally Russia will be crucial to determining the shape of a possible deal.

De Mistura told reporters that if progress appears impossible on the most contentious issues, he will turn to the "real peacemakers... the peacemaking powers who wanted these talks," referring to Washington, Moscow and the UN Security Council.

"We will bring the issues back to those who have influence," if negotiations go nowhere, de Mistura said. "The only plan B available is return to war. To even worse war than we have so far."

The leverage of major powers over Syria's warring parties has its limits, however, as half of Syria's territory is controlled by jihadists from the Islamic State (IS) group or Al-Qaeda affiliate Al-Nusra Front.

Representatives from Syrian Kurdish groups, which have played a key role in combatting fighters, have also been excluded from the talks - despite a push from Russia. Kremlin spokesman Dmitri Peskov on Monday reiterated calls for the Kurds to be included, saying "the most important thing was to ensure maximum attendance," at the talks.

De Mistura said he was open to broadening the list of participants after this round of negotiations.

Syrian government lead negotiator Bashar al-Jaafari said on Sunday the regime had held positive discussions with de Mistura, but what would be discussed was still up in the air.

"The agenda is set," de Mistura told reporters, without providing concrete details and saying he hoped to quickly move from discussion of "procedural" issues to "the substance".

He said he expected that Monday's talks would be the first of three rounds. The current bout is expected to last until March 24, with a second round beginning after a recess of a week or 10 days, with that round seen lasting "at least two weeks." A third round would be held after another recess, he said.

"By then, we believe that we should have at least a clear roadmap. I'm not saying an agreement, but a clear roadmap, because that is what Syria is expecting from all of us."