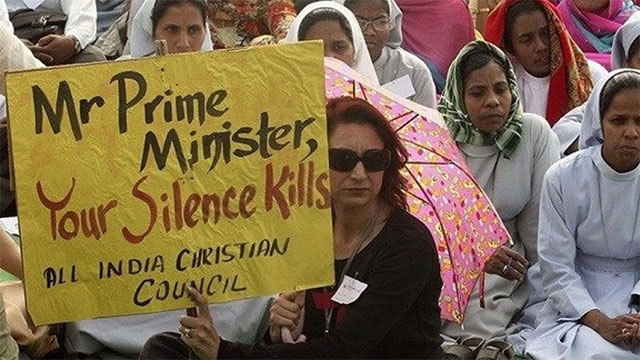 ---
Extremist attacks against Christians in India, in 2016 alone has once again brought the country under fire for religious intolerance.

For over a decade, Christians have reportedly been under attack in places like Iraq, Syria and Africa but the minority group in India has seen about 30 incidents of religiously motivated violence cases in just over two months.

India's Modi orders crackdown on attacks on Christian buildings

Fox News stated that 26 incidents of religiously motivated violence against Christians were reported in India since January 1, 2016.

Earlier, such cases were limited to a particular region or issue, however, the violence has now become more widespread with Hindu radicals enjoying immunity for their actions.




"They are wolves in sheep's clothing," Jeff King, president of the International Christian Concern, told Fox News. "There has been an increase in attacks because nationalists feel emboldened with Prime Minister Narendra Modi in power.

More often than not, Indian police failed to take action against the aggressors. One such event was when a mob of over 30 radicals on January 29 in the southeastern state of Tamil Nadu, attacked a Catholic priest and three other church officials dragging them out of their car and beating them up.

The men tried to escape from the mob but failed. Meanwhile, local police did not intervene as the mob beat the priest and church officials. As a result of the attack, all four Christians were hospitalised.

Religious Intolerance: India will become the next Pakistan, says former Indian police officer

Referring to another attack which left a local pastor and members of his congregation severely injured, Pastor Nitin Kumar said, "It was [a] very scary scene."

"They tore my cassock and I received blows, punches, [and] kicks from all directions as I was their prime target. [Our] Bibles were snatched from us and were tore and trampled. [Other] believers ran to all directions as they were chased by the mob," he told humanitarian group International Christian Concern.




According to reports, the pastor along with the other members were attacked by 40 Hindu radicals who accused him of trying to convert Hindus to Christianity. A four-year-old girl broke her leg during the attack.

The number of such incidents seems to have increased after the election of Indian Prime Minister Narendra Modi and the the rise of the Bharatiya Janata Party or the Indian People's Party (BJP).

The BJP believes in what is known as Hindutva — a cultural nationalism which favours Indian culture over westernisation.

Prayers in India for elderly nun gang-raped at convent

"Since 2014 there has been a significant increase in attacks on Christians and Christian communities by radical Hindu forces in India," David Curry, president and CEO of Open Doors USA told Fox News. "The government, which came into power with the election of Prime Minister Narendra Modi of the Bharatiya Janata Party, has strong Hindu nationalist ties. As a result, radical Hinduism, which was already present under the previous government, has increased steadily."

"The central government has refused to speak out against the atrocities – thus further encouraging radical Hindus to step up their discrimination against Christians," Curry added. "The government's tolerance, if not promotion, of discrimination against Christians has led to a marked rise in the number of people within India openly pushing for a completely Hindu India," Curry added.

The rash of outbreaks led humanitarian groups like the ICC to campaign in Washington to put pressure on Modi and the BDP to stop the wave of extreme nationalism.

Earlier last month, eight senators of the United States and 26 members of Congress, sent a letter to Modi requesting him to publicly oppose the acts of persecution. However, there has been no response thus far.

"The BJP will be silent unless there is political pressure," King added. "With Congress coming out with this letter, with that rise in pressure, the party will have to address the issue."

This article originally appeared on Fox News.